Your free community news in brief
If you wish to contact us regarding any of our news items please do so...
Email: linda@inishowennews.com
:: News In Brief
Today is national 'Slow Down Day' 24.05.19
AN Garda Síochána are conducting a national speed enforcement operation 'Slow Down Day', supported by the Road Safety Authority, for a 24 hour period from 7am today, Friday 24th May, to 7am on Saturday, 25th May 2019.
The objective is to reduce the number of speed related collisions, save lives and reduce injuries on our roads. The aim of 'Slow Down Day' is to remind drivers of the dangers of speeding, increase compliance with speed limits and act as a deterrent to driving at excessive or inappropriate speed.
Safety cameras will be on the roads all across Ireland where fatal or injury collisions are happening as a result of inappropriate speeding.
Loughs Agency seize 50m net in Moville 22.05.19
Last night, The Loughs Agency seized a 50m net in Lough Foyle at the mouth of the Bredagh River in Moville. The net had several sea trout caught in it, all of which were released. The agency encourages members of the public to report suspicious activity by calling +44287134 2100.
Search & Rescue Exercise in Bunbeg 19.05.19
A Joint Garda Síochána and Irish Coast Guard training exercise will be held today, 19th May, both on and offshore in the vicinity of Machaire Gathlán Pier, Bunbeg, Co Donegal. Also taking part in the exercise will be personnel from the RNLI and Irish Underwater Council Search and Recovery Divers.
The exercise will commence at 08:00hrs and finish at 13:00hrs today, Sunday 19th May 2019.
The aim of the exercise is to review search, rescue, recovery operational capacity and to enhance communications between:
1. Marine Rescue Centre, Malin Head
2. Irish Coast Guards Teams
3. Irish Underwater Council Search & Recovery Divers
4. RNLI
5. An Garda Síochána
Sliabh Liag Project official opening 13.05.19
The Sliabh Liag Strategic Development Project will be officially opened later today by Minister for Education and Skills Joe McHugh TD in association with Cllr Seamus O Domhnaill Cathaoirleach of Donegal County Council.
The project represents a capital investment of €4.95 million incorporating the construction of the Transportation Hub and Visitor's Centre. The capital works also included road improvements from Carrick village, a Ranger Station with carpark, toilet facilities and importantly the mountain path works with 2.5km of new path installed.
The opening will take place today, Monday 13 May, at 3pm at the Sliabh Liag Visitor Centre.
Lotto luck continues in Donegal 05.05.19
Lotto excitement hits Letterkenny after a ticket worth €250,000, the top prize on last night's Lotto Plus 2 draw, was sold in the town. The winning quick pick ticket was purchased at the Eason's store in the Letterkenny Shopping Centre.
This Lotto win is the latest of a number of top prize National Lottery wins to hit Donegal in the past number of weeks. Just last week a lucky lotto player in the Glenties scooped a massive €500,000 EuroMillions Plus top prize while in April Odhran Doherty won the Lotto Plus 1 top prize of €1 million with a ticket purchased in Raphoe.
In February, a EuroMillions Plus top prize of €500,000 was won by 84 year old retired farmer, Charlie Meehan, from Manorcunningham.
Gardaí investigate gorse fire in Donegal 03.05.19
A man was arrested yesterday (2/5/2019) by Gardaí investigating an outbreak of gorse fire in west Donegal on Good Friday (19/4/2019). He was detained under Section 4 of the Criminal Justice Act, 1984 at Milford Garda Station and has since been released without charge. A file will now be prepared for the Director of Public Prosecutions.
The investigation commenced following an outbreak of gorse fire on Good Friday between the hours of 1pm and 10.30pm. Considerable damage was caused to houses, tractors and land in the Drumnacart & Annagry area but no injuries were reported. The investigation is still ongoing.
€500k lotto ticket sold in Glenties 27.04.19
Lotto excitement has hit Glenties in Donegal after a ticket worth €500,000 was sold in the village last night. The lucky ticket won the top prize on the EuroMillions Plus draw.
The half a million euro ticket was purchased in the Paper Stop shop on the Main Street in Glenties, a village with a population of only 800 people.
The store owner William Elliott said: "I was shocked to get the call last night as it's the first major lottery prize we've sold in recent times. We've been spreading the word to our customers to check their tickets and there is a great buzz in the village all morning."
Gardaí seek help to find missing person 26.04.19
Gardaí wish to seek the public's assistance in tracing the whereabouts of Jamie O'Neill, 17 years old, who is missing from his home in Bonagee, Letterkenny. Jamie was last seen on the 24th of April 2019 in Bonagee.
He is described as being 5'9'', he has dark brown hair and brown eyes. When last seen he was wearing a dark coloured tracksuit top. Anyone who has seen Jamie or who can assist in locating him is asked to contact Letterkenny Garda Station on 074 91 67100 or the Garda Confidential Line on 1800 666 111.

27th April 2019 Update - Jamie O'Neill has been located safe and well. Gardaí would like to thank the public and the media for their assistance in this matter.
Election posters are a road safety concern 26.04.19
The Donegal Road Safety Working Group has issued an appeal to candidates contesting the upcoming elections to be mindful of road safety when erecting posters.
Brian O'Donnell Road Safety Officer says "we totally understand that candidates need to erect their posters and we are asking them to be mindful of where they erect their posters and to be aware that posters in the wrong location can lead to problems for motorists and pedestrians".
He adds "in the interest of road safety we are appealing to candidates to be conscious of where posters are placed and secure them properly.
We would urge candidates to be particularly mindful of erecting posters at or near roundabouts, speed limit signs, statutory road signs, directional signs, road works sites, stop or yield signs and other crucial areas"
Newtown woman hopes to spin the wheel 23.04.19
Mary Doran from Newtowncunningham was watching Winning Streak last weekend and knew she had a scratch card sent into the show.
She was alone in the house with just her grandson when her name was called out. However, by the time the show was coming to a close, the house was full of her family all keenly waiting for the full address to be shown at the end of the show.
Mary's husband Stephen and eight adult children, Vanessa, Marian, Elizabeth, Gillian, Amanda, Anne Marie, Sandra and Steve will be in the audience to cheer her on this Saturday, 27th April.
Sun set to shine on Inishowen clean ups 18.04.19
With the good weather forecasted over the next few days, the sun will be shining on Inishowen volunteers who will be out again as part of the Big Donegal Clean Up. Clean ups are planned for Ballyliffin, Clonmany and Carndonagh.
This weekend's clean ups in Inishowen will take place as follows:
• Ballyliffin Tidy Towns are having a big clean up on Friday, 19 April, starting at 11am and meeting at Pollen Beach Car Park.
• Clonmany Tidy Towns are having a big clean up of Urris, Dunaff, Leenan and surrounding areas on Friday, 19 April and there are two meeting points; St. Marys Hall, Clonmany and Tiernasligo, Urris at 10am.
• Carndonagh Tidy Towns are having a big clean up on Friday, 19 April, meeting in the Carndonagh Council Offices car park at 11.00am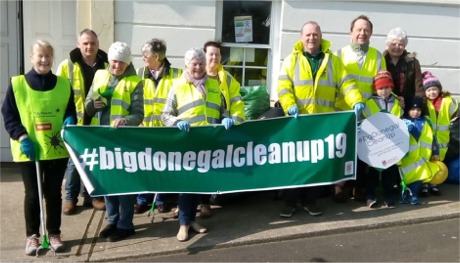 Gardaí arrest three men in Letterkenny 17.04.19
Gardaí arrested three men, (31, 25 and 24 years of age) when they carried out a search of a house in Letterkenny on Tuesday, 16th April, 2019. The operation was part of an ongoing investigation into a Romanian organised crime group.
A large amount of fraud paraphernalia including suspected cloned credit cards, credit cards issued in false names, bank account details, false Romanian identity documents, credit card machines, till rolls and a number of suspected stolen Irish and UK passports and driving licences along with two cars bought on finance obtained on bank accounts opened in false names were discovered at the location and seized.
100 Years of Women in Politics and Public Life 12.04.19
Donegal County Museum's new temporary exhibition celebrates 100 years of women in politics and public life, by shining a spotlight on the stories of women who have contributed significantly to Irish political and public life over the past century and on the challenges they faced and the obstacles they overcame.
The exhibition runs to the end of June at Donegal County Museum, High Road, Letterkenny. Opening hours 10am – 4.30pm (Lunch 12.30 – 1pm) and Saturday 1- 4.30pm. Admission is free. Tel: 074 9124613 or Email: museum@donegacoco.ie .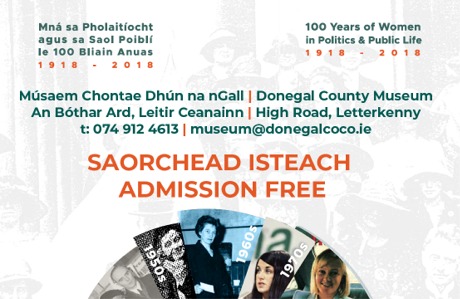 Garda Campus Watch warns students 12.04.19
Garda Campus Watch warns young students never allow your bank account to be used by someone else. The "Creating Fraud Awareness" campaign will run until Friday 31st May 2019. Students are often targeted by organised crime gangs to act as money mules, laundering thousands through their accounts in exchange for a few hundred euro.
Niamh Davenport, Head of Fraud Prevention said: "We understand that young adults are trying to juggle work and study with an active social life, with all kinds of costs to cover and it can be very tempting when someone offers you the chance to earn extra cash quickly for little effort.
We're urging young people to be smart when it comes to money mule recruitment, whether it's someone asking for a favour or promising payment. Know the warning signs, understand the risks and check with someone you really trust if you're unsure."