:: News In Brief
Buy Donegal 2023 28.11.23




Buy Donegal 2023 runs until December 22nd, providing ample opportunity for those festive stocking fillers! The campaign provides a fantastic platform for local businesses to highlight their creativity, innovation, talent and appeal to a much larger audience.

Buy Donegal offers consumers a great opportunity to buy their loved ones a special Donegal gift in time for Christmas. You can find out more about the wonderful products and services on offer at www.BuyDonegal.com .
ĎAdopt a Monumentí scheme re-opens 09.11.23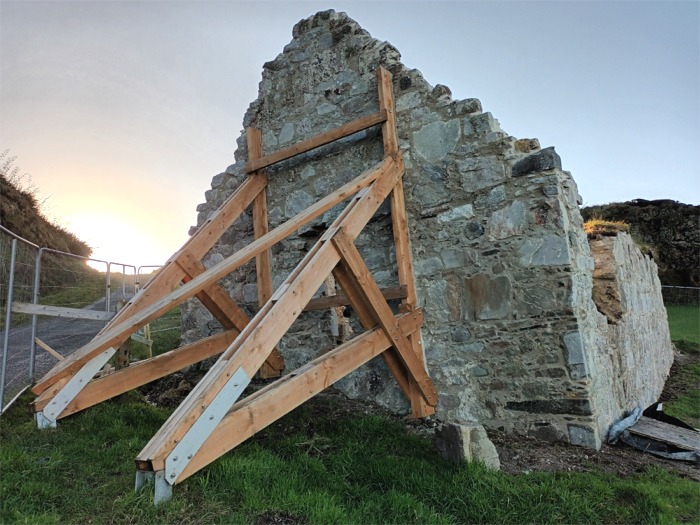 Malin Head Heritage Group secured funding last year to undertake stabilisation and conservation works to Malin Well Old Church.

The Heritage Council is looking for new groups to join its ĎAdopt a Monumentí programme and to adopt a monument in their locality. Applications are open until 5 pm on Monday, November 13. The scheme is designed to identity a monument in your locality that would benefit from some care and attention and to support a local community groupís efforts to get involved in its management. It aims to empower communities to become actively involved in the conservation and interpretation of their local archaeological and cultural heritage sites.

Further details and an application form are available at www.heritagecouncil.ie . Completed applications should be sent by email to adoptamonument@heritagecouncil.ie . Advice and assistance on making an application is available from the Donegal Heritage Office on 074 91 72576 or email heritage@donegalcoco.ie .
Be Safe and Be Seen 27.10.23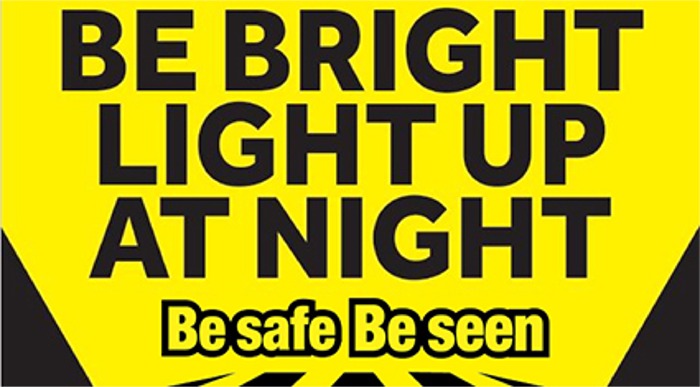 Road users warned of dangers of darker evenings, as clocks go back and winter time begins.
The Donegal Road Safety Working Group is appealing to all road users to exercise extreme caution and for motorists to be aware of vulnerable road users as the clocks go back by an hour and winter time begins this weekend. Summer time officially ends on Sunday morning, as clocks goes back by one hour.

Motorists are urged to check that their vehicle is fit for winter. Tyres must be in good condition and meet the legal requirements. All lights must be clean, working and correctly adjusted. Always use dipped headlights when driving in poor weather conditions.

Always wear a hi-viz jacket to be seen if you are walking, running, cycling or riding a motorbike. Slow down if you are a driver, especially when sharing the road with vulnerable road users.

To date in 2023, 155 people have lost their lives on our roads, which includes 32 pedestrians and 5 cyclists. Six people have died in Donegal and many more have been seriously injured in road traffic collisions. Be Safe and Be Seen.
ETB Digital Hub service in Carndonagh Library 25.10.23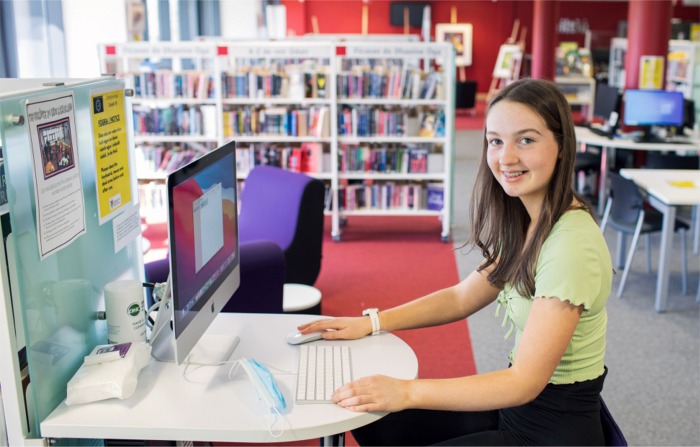 Have you always wanted to know how to use a laptop or tablet?
Do you need help with school apps or your mobile phone?
Or need help filling out online forms?
Well, your local library is the place to go to find out how.

The Library Service has partnered with the ETBís Further Education and Training Service to deliver Digital Hubs in local libraries.

You will receive support for all your digital needs and the service is free. The Digital Hub will be available in Carndonagh Library on Thursdays from 2pm to 4pm starting on 9th of November 2023 and runs for six weeks.

There is no need to book, just drop in during the time specified above. Feel free to bring your own device with you or use the device provided by the tutor.
Public Speaking Competition 23.10.23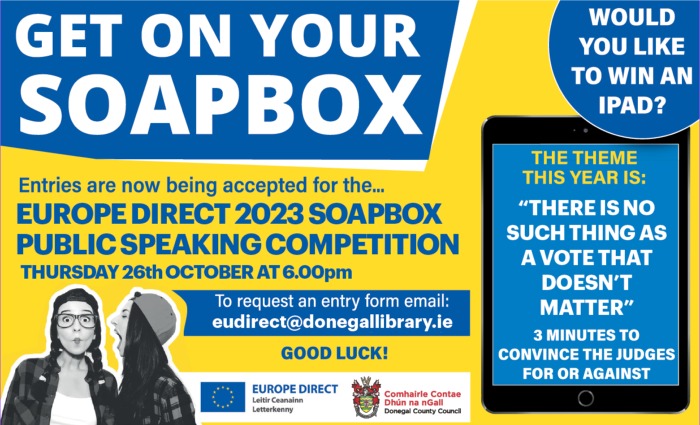 The EU wants to know if: 'Thereís no such thing as a vote that doesnít matter'.

Do you have a strong opinion on youth issues, education opportunities, employment, travel, global warming, sustainability, gender equality or animal welfare?

The Soapbox public speaking competition will take place in Central Library on Thursday 26th October at 6pm. All speeches will be assessed by a panel of independent judges and equal marks will be awarded for content, delivery, structure and overall impact.

Contestants can compete in one of two categories: 16 and under or 17 and over. The regional winner from each category will receive a prize and will go forward to the national final in Dublin at the end of November.

If you would like to take part in Soapbox 2023 please email eudirect@donegallibrary.ie for an application form. Entries will close on Wednesday 25th October at 5pm.
Walk & Talk event at Inch Island 10.10.23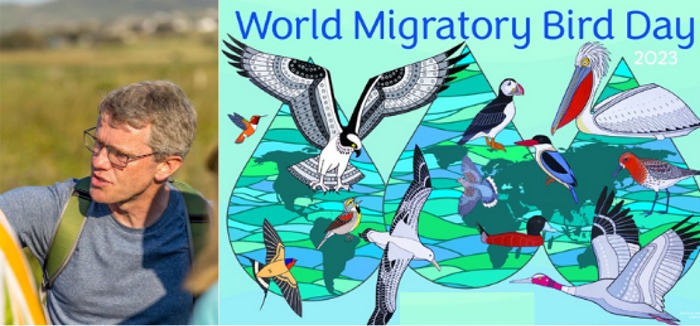 In celebration of World Migratory Bird Day on Saturday, October 14th 2023, Change Makers Donegal is hosting a free Walk & Talk event at Inch Island, featuring Aengus Kennedy of Nature North West.
During the event, Aengus will discuss the significant movement of birds and the concerning decline in several species despite their long-standing migratory routes. Attendees will explore Inch Island's diverse habitats that support these beautiful creatures and other biodiversity. The event will begin with a presentation by Aengus at An Grianan Hotel, Burt, followed by a walk at Inch Island commencing at the McGraths Car Park. The event will run from 10am to 1pm on Saturday, October 14th, 2023.
For more information and to book, please visit https://shorturl.at/quBY0 .