Your free community news
If you wish to contact us regarding any of our news items please do so...
Email: linda@inishowennews.com
:: News In Brief
Devine wins Donegal Harvest Rally 14.10.19
Derry's Callum Devine and his Enniskillen co-driver Brian Hoy took their first major win as they dominated the Donegal Harvest Rally in Inishowen. Their Fiesta R5 lead the nine stage event from start to finish. This was despite all the efforts of this year's National title holders Josh Moffett/Andy Hayes and former champion Donagh Kelly in his VW Polo.
Devine led Moffett, who was making his debut in a Polo R5, for most of the day, with Kelly close behind in third place, but on the final loop, the Monaghan driver slid back to fourth position behind local man Joe McGonigle's Mini.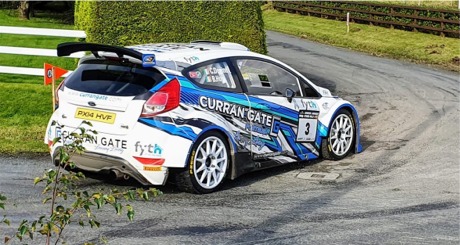 Donegal Harvest Rally winners, Callum Devine and Brian Hoy.
MICA Redress Scheme update 11.10.19
The recent announcement by Government of funding for the Mica Redress Scheme in Budget 2020 is a welcomed development for individuals in Inishowen whose homes are cracking due to the defective blocks.
Donegal County Council has confirmed that engagement is ongoing with officials in the Department of Housing, Planning and Local Government in relation to the details of the scheme, including enabling regulations, with the objective of concluding this work as soon as possible.
The Council is also making preparations for the work in relation to the administration of the scheme so that when the regulations enabling the opening of applications to the scheme come into effect it will be in a state of readiness to receive and process applications.
Sleep Out 'a big success' 11.10.19
Volunteers from all across Donegal slept out on Friday, 4th October, in Letterkenny to help raise much needed awareness and funds for North West Simon Community.
Collette Ferguson, Donegal Development Officer at Simon expressed her deepest gratitude to each and every one of the 35 volunteers for stepping out of their comfort zones for one night only so, others don't have to.
The Volunteers were on a mission to make a difference and managed to collect €2,408 during the collection on the night.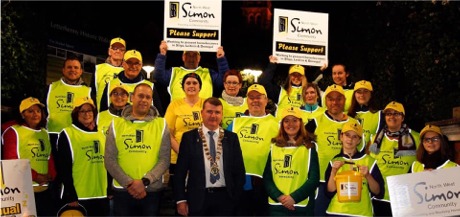 Cllr. John O'Donnell with volunteers at the launch of the North West Simon Community Annual Sleep Out.
Arts Council invests in Inishowen events 03.10.19
People in Donegal will experience a wide range of high-quality arts events in the months ahead, the Arts Council have said, with funding for a number of local organisations and artists through grant programmes.
Local projects Inishowen Carnival Group and Artlink Ltd at Fort Dunree are among those to receive a funding boost of €42,000 and €50,000 respectively. Across the country, the government agency for funding and developing the arts awarded €7.3 million to some 131 artists, arts organisations and projects through its Arts Grant Funding programme.
Tonight is a record €190m EuroMillions draw 01.10.19
EuroMillions players in Ireland could be set for a bumper pay-out in tonight's EuroMillions draw which promises a massive increase in lower tier prizes due to the €190 million jackpot cap.
The National Lottery has confirmed that due to the €190 million jackpot cap, an estimated €15 million in prizes will now flow down to lower prize tier levels.
Under the EuroMillions community rules, a jackpot is capped at €190 million and any excess will flow down to the next prize tier at which there are winners. The jackpot can remain capped at €190 million for up to a four draws.
On the fifth draw at cap, if the €190 million jackpot is still not won, the full value of the jackpot will flow down to the next tier with a prize winner.
Tune in to Tip O'Neill Award Ceremony 27.09.19
The prestigious Tip O'Neill Irish Diaspora Awards Ceremony will be streamed live for the first time today, Friday 27 September, at 7.30pm on the Donegal County Council website www.donegalcoco.ie .
Cllr. Nicholas Crossan, Cathaoirleach of Donegal County Council and Chair of the Tip O'Neill Irish Diaspora Award Committee believes that this will open up the event to a wider global audience.
"We are delighted to be live streaming the Tip O'Neill Irish Diaspora Awards ceremony from the Inishowen Gateway Hotel in Buncrana allowing us to bring what is always a very special event to a wider audience" says Cllr. Crossan.
The four notable members of the diaspora that are set to be honoured at this year's award ceremony are author and playwright Frank McGuinness, Dublin based businessman Pat Doherty, US based attorney Patrick C. Dunican Jr and US based businessman Daniel J. Hilferty.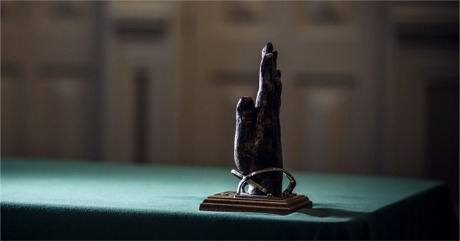 Tip O'Neill Irish Diaspora Awards Ceremony will be streamed live at 7.30pm from the Inishowen Gateway Hotel in Buncrana on www.donegalcoco.ie .
Donegal house prices fall 27.09.19
Donegal house prices in the third quarter of 2019 were 2% lower than a year previously, compared to a fall of 1% seen a year ago according to the latest Daft.ie Sales Report released by the property website. The average house price is now €141,000, 47% below peak levels.
Commenting on the figures, Ronan Lyons, author of the Daft.ie Report, said: "With prices also falling in some areas most exposed to Brexit, in particular Border regions, a disorderly Brexit could change this story in months to come."
Inishowen water treatment plant upgrades 17.09.19
Irish Water, working in partnership with Donegal County Council, has completed assessments, upgrades and standardised disinfection systems in water treatment plants across the county including Inishowen, as part of its National Disinfection Programme.
This work has resulted in improvements to 15 plants in County Donegal, ensuring these plants continue to comply with the required drinking water regulations.
As part of the project, operational upgrades have been completed in water treatment plants, public water supplies and pumping stations at sites including Buncrana (Slavery), Carndonagh, Inishowen East (Redcastle) and Inishowen West (Meendoran).
For more information, visit National Disinfection Programme .
Green Cards won't be needed for UK 23.08.19
Green Cards will no longer be needed for those driving Irish registered vehicles in the UK, including Northern Ireland, if there is a 'no deal' Brexit. Valid Irish insurance discs will be accepted as proof of insurance for Irish registered vehicles, following detailed discussions between the Motor Insurers' Bureau of Ireland (MIBI) and the UK Department of Transport.
A Green Card is an internationally recognised insurance document which demonstrates to law enforcement agencies that valid motor insurance is in place.
The UK Department of Transport has now confirmed that law enforcement authorities in the UK, including Northern Ireland, will accept valid Irish insurance discs as proof of insurance for Irish registered vehicles.
However, in the event of a 'no deal' Brexit, Green Cards will still be needed for UK registered vehicles visiting European Union countries, including Ireland.