Best value Inishowen advertising

Full Listing Offer
- Take out a Full Listing online
(only €100 per year)
AND
- Get a complimentary listing in the 2019 printed directory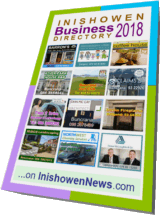 Being delivered by An Post to over 15,200 homes in June 2019.
5 Reasons to get a Full Listing
(only €100 per year)
1. Our directory comes out tops on Google
2. Free Listing in printed Inishowen Directory 2019
3. Free
Web Page for your business
4
. Free display of your ad on our front page
5. Over 1000 people visit this website every day
With over 80% of the Irish population using the internet regularly, the majority of your potential customers are now online. As the largest website in Inishowen we offer you a unique opportunity to reach your target audience.