Sewer networks across Donegal to be upgraded
07.02.19
AS part of a €4m investment across the North West, Irish Water is upgrading the sewer networks in towns and villages across Donegal, including Buncrana and St Johnston. These works will address the structural defects in the sewers and therefore reduce the likelihood of sewer collapses and blockages. There will also be less risk of sewer flooding and odour issues as a result of this investment.
Works are currently on-going and are scheduled for completion in late 2019. Non-dig technology is being used to reduce impacts to residents, the general public, businesses, schools and to minimise traffic disruption.
Eunan Canavan, Irish Water explained: "We firstly clean the sewer network in order to remove general silt build-up in the pipelines as well as any blockages caused by items such wet wipes, cotton pads, fat, oils and greases. We then carry out CCTV surveys of the pipelines which identify and categorise all defects in the pipes. The sewer is then rehabilitated by repairing those defects in the sewers predominantly using an internal lining system which is installed by non-dig means." However, Eunan added: "It is important that people don't flush items down the toilet that will cause blockages."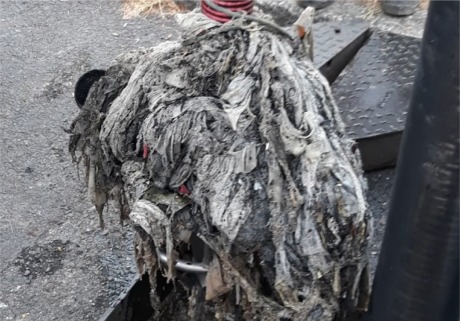 Think Before You Flush.
Clean Coasts together with Irish Water recently launched the 'Think Before You Flush' campaign for a third year. 'Think Before You Flush' is a public awareness campaign about the problems sanitary products and other items can cause in the plumbing in our homes, our wastewater network, beaches and marine environment when they are flushed down the toilet.
Eunan continued: "Irish Water regrets any inconvenience these necessary sewer improvements may cause and would like to thank local residents and businesses for their cooperation in delivering these essential works which will ensure a more reliable sewer network."
Residents and businesses in the areas to benefit from the planned improvements can phone Irish Water on Callsave 1850 278 278 if they have any questions about the project. There is also updated information on the Irish Water website www.water.ie .