7,000 fewer Catholics in Donegal
13.10.17
DONEGAL has seen a drop of more than 7,000 in the number of Catholics in the county, new Census data shows.
The figures show that while Catholicism remains Donegal's predominant religion, there has been a significant fall in the number since the last census in 2011.
Catholics currently account for 81.9% (130,317 people) of Donegalís population compared to 137,639 people five years previously. The average age of Catholics in the county is just over 38 years.
As with the State overall, the next largest group in Donegal are those with no religion.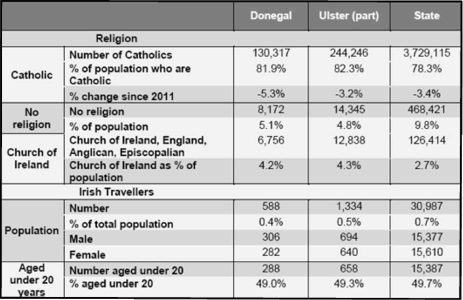 Religion and Irish Travellers in Donegal.
In 2011, 5,161 people described themselves as having no religion while by last year's official headcount, this had increased to 8,172 people or 5.1% of the countyís population. The average age of those with no religion is about 37 years.
The top five in Donegal was completed by 6,756 Church of Ireland members; 5,877 Presbyterians and 747 Muslims.
Meanwhile, the latest tranche of Census 2016 data shows that there were 588 Irish Travellers enumerated in the county on census night in April 2016. This was a fall of 136 on the 724 Travellers enumerated in 2011. This represents less than 1-in-200 of Donegal's population. Nationally, Travellers accounted for less than 1-in-100 of the total population.
There were more male (306) than female (282) Travellers in Donegal on census night last year with almost half aged under 20 years.