Better EU link-ups for Donegal businesses

27.07.15
DONEGAL businesses will have easier access to EU funding and global trade links following the recent launch of the Enterprise Europe Network.
The project is a joint national initiative with Enterprise Ireland and chambers of commerce, with Donegal Local Enterprise Office the lead partner on behalf of the 31 enterprise offices nationwide.
Irish firms will have access to the Enterprise Europe Network which can help them with oversees connections.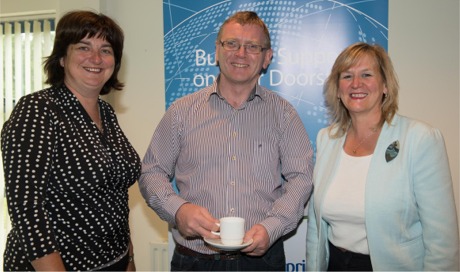 Siobhan Grant, Denis Sheridan and Toni Forrester attend the launch of the Enterprise Europe Network at Donegal Local Enterprise Office.
The 600 branches are in Europe as well as North and South America, Egypt, many Asian countries and recently New Zealand.
Donegal County Council ceo., Seamus Neely, said the local authority said: "Whether it is access to EU funding, help with grasping EU rules, making international connections or bringing your innovation to market, we at Donegal County Council are delighted to have the availability of the Enterprise Europe Network here to assist you," he said.