Making Donegal a great place to grow old in
01.02.19
THE voices of older people were heard loud and clear at the AGM of the Older Persons Council on Wednesday last, 23 January, in the Mount Errigal Hotel which saw a huge turnout with groups and individuals from all over Donegal attending despite the inclement weather warnings.
Cathaoirleach of Donegal County Council Cllr Seamus O'Domhnaill opened the AGM and encouraged agencies across Donegal to continue to work together and with the Older Persons Council to make Donegal a great place to grow old in.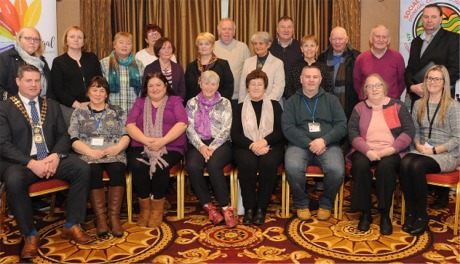 The newly elected Older Persons Council Executive in Donegal.
The AGM also heard from Seamus Neely Chief Executive of Donegal County Council and Chair of the Age Friendly Alliance. Mr Neely said "the journey that we have all embarked upon through the Donegal Age Friendly Programme journey has been an enlightening one and one that has been extremely beneficial to all involved. By working together we have been able to implement real meaningful change in an imaginative and cost effective way.
"For example the Walkability Audit in Letterkenny University Hospital has resulted in the erection of new signage and the installation of the first Age Friendly Car Parking space. Letterkenny being nominated as the first age friendly town in Donegal with the roll out of business recognition training to all businesses and Age Friendly training delivered to frontline staff in Donegal County Council as well as the launch of an Older Persons Information Guide. The delivery of the Local Link bus service by SITT has been a lifeline for many older people in Donegal and the Older Persons Council has been to the fore in sharing the views and perspectives of their members resulting in additional bus routes and services to meet the needs of older people especially those living in rural areas."
Reports were also presented by joint chairs Grainne Hines and Mary McGowan describing some of the projects carried out by the Older Persons Council, including intergenerational projects, engagement with the health services for older people and installation of gym equipment in Letterkenny Town Park. In her address Ms Hines encouraged older people to join the Older Persons Council and to have their say on issues affecting their lives.