Buncrana GAA cries foul over dog poo
08.05.17
A GAA club has hit out at dog owners who let their pets foul their playing pitches.
Buncrana GAA Club is concerned its players, grounds workers and other pitch users will pick up the dangerous toxocariasis infection that can lead to serious illness and blindness in humans.
The club has now sent an urgent message via its weekly newsletter to its members and the local media, alerting people to the growing problem at its playing fields, known as The Scarvey.
"Both pitches have been covered in dog foul in recent times. Other people should not have to lift your dog poop. Do not let your dog wander around the pitches if you are not then prepared to scoop the poop," the club stated.
"The reason there is a law about lifting dog mess is because it is a toxin and it causes toxocariasis. Toxocariasis is caused by the parasite known as roundworm. It leads to serious illness and blindness in humans," the club warned.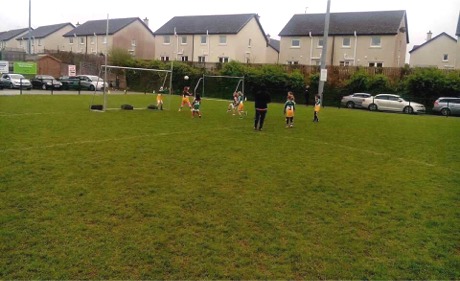 Buncrana GAA Club is concerned about the hazards associated with dog mess.
Buncrana GAA, situated in a scenic location on the outskirts of the seaside town, says it's very proud of its state-of-the-art facilities.
These include two floodlit pitches; an indoor gym; five changing rooms; a first aid room with defibrillator as well as a kitchen, laundry room, function room and viewing gallery.
The club says it's "proud to serve the entire community (and) proud of the volunteers who give so freely of their time".
But it will no longer put up with the hazards posed by dog mess on their playing surfaces where underage and senior footballers and hurlers regularly practice.
"Please keep this in mind the next time you allow to roam free or just ignore your dog's mess. The health of all users of The Scarvey is of great importance to the club. PLEASE clean up after your dog…" it added. For more Buncrana GAA notes, click here .