Your local site for club notes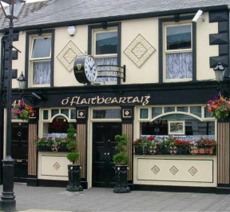 This page is sponsored by
O'Flaherty's Bar, Buncrana

Add to Favorites
If you wish to contact us regarding the club notes, please do so...
Email: clubs@inishowennews.com
:: Buncrana GAA Club

13.03.17
Buncrana 1-7 Malin 1-3
Buncrana Senior Footballers got off to a winning start in the All County League with a win over neighbours Malin. In a game that saw passion, Buncrana showed that they had been hard at work over the last number of months. A team combined of experience and youth, we saw a great performance from young starts such as Noel McLaughlin, Bruce Waldron and Conor Grant. Peter McLaughlin was in great form at mid field and was joined by a new addition to Buncrana, Kevin Campbell. Oisin O'Flaherty was also present and as usual covered most of the Scarvey throughout the sixty minutes. But we couldn't pass without mentioning 2 great scores from Odhran X, wide out on the side of the pitch over 45 metres- great scores in any game!

Scorers for Buncrana – John Campbell 1-1, Odhran Doherty 3pts, Noel McLaughlin, Oisin Doherty, Shane McClean 1 point each.

Well done to our reserves who also ran out winners against Malin. We wish Kieran McNicholas well who sustained an injury yesterday.
Well done to Aoife Lennon who was again on signing duty before the Donegal hurling league match this weekend. Flying the club flag and doing us proud.
Well done to our club lads who were part of the Donegal senior hurling team this week. They had an impressive win over Monaghan.

Following the club draws made last week, we now have found our pairings for this years championship.... we will meet Downings, Glenfin and St Nauls.
Please note that membership is due for 2017. It is important for people to have registered with the club and be paid up members.
Underage Team Training:
U7 (2010) boys football.
Thursday 6pm to 7pm - Buncrana Youth Club.

U8 boys (2009).
Thursdays in Buncrana Youth Club -7pm to 8pm.

Our U9 footballers.
Monday :Crana College at 6.25pm - 7.30pm
Thursday: Illies Community Hall at 6.25pm - 8pm.
Bring water, gumshield and €2.

U10 footballers.
Monday: Crana College at 7.25pm- 8.30pm
Thursday: Illies Community Hall at 6.25pm - 8pm.
Bring water, gum shield and €2.

If you would like anything included in our club notes or circulated by social media please email us at buncrana.pro@gmail.com .
Want to keep right up-to-date on local Buncrana Club news? Just enter your email address into "Receive Club Notes by Email" on the club's homepage at www.buncranagaa.com to automatically receive the Club's Weekly Notes.

You can renew your annual membership online now at the website too – and you don't even have to be in Buncrana! Membership now open worldwide... just click on the link below to renew online www.buncranagaa.com .