Advice issued ahead of Halloween celebrations
26.10.17
Derry is gearing up for another spectacular Halloween extravaganza, and with tens of thousands expected in the city to enjoy the celebrations on October 31st the public is being advised there may be some disruptions to travel in and around the city centre.
A number of car park and road closures will be put in place to ensure public safety and viewing of the main carnival parade, which this year will have an extended route beginning from 7pm.
The parade has a distinctly lunar theme as the crowds gather to Release the Samhain Moon, with performers leaving from Council's Car Park on Queen's Quay before the parade will move along Boating Club Lane to the Strand Road. From here it will proceed along the Strand Road to Harbour Square Roundabout before progressing right along the Foyle Embankment to Water Street, returning back towards the Quay, finishing at the Council car park at approximately 8.15pm. The parade will be followed by a world class fireworks display on the Foyle from 8.15pm.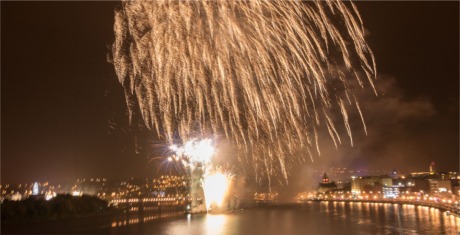 The fireworks display on the Foyle will commence at 8.15pm.
Looking ahead to the event, which has now gained international status, the Mayor of Derry City and Strabane District, Councillor Maolíosa McHugh, said: "This weekend the festivities will be in full swing, with four days of family activities taking place across the district. As the city prepares to submit its bid for the title of European Capital of Culture alongside Belfast, what better way to showcase our ability to host and develop international quality events which appeal to a global audience. As we celebrate the culture that sets us apart from the rest of the world over the coming days I would encourage everyone to back our bid for ECOC2023.
"With so many people expected here, especially on October 31, I would also urge people to plan ahead of their visit to ensure their journey is stress free and that they are aware of all the guidance in terms of road closures and parking. Let's make this a Halloween to remember."
Events co-ordinator with Derry City and Strabane District Council, Liz Cunningham, advised people to check out the Council's website in order to ensure the very best Halloween experience. "Anyone planning to attend the festivities should check out the traffic and travel information online and should pay attention to the directions of stewards and the PSNI on the night," she stressed.