Symphony for (ham)strings at Glencrow
01.06.15
MOVILLE Celtic's homeground was alive to the sound of hamstrings being pulled, creaky knees and aching calves on Friday night - and that was just the first half.
Rumour has it the Foyleside town sold out of muscle rub on Saturday after local football legends took to the pitch for a golden oldies testimonial at Glencrow in aid of the Mark Farren Treatment Fund.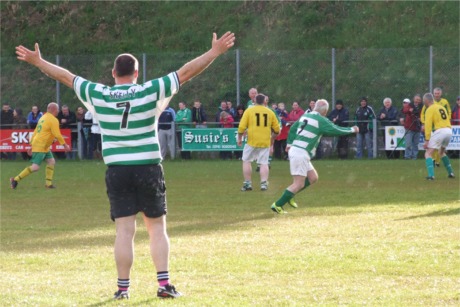 Striker Liam Skelly calls for the ball.
It was just as well the fixture took place on a bank holiday - with an extra day's recovery time for those who took part. All the same, you'd have to say 'hip, hip hooray' to everyone who lined out.
For more photos from the game, click here .