Man admits running shebeen 'hoolies'
20.10.11
A CARNDONAGH man who sold alcohol at 'hoolies' in a barn has been told to pay €500 to a local charity.
Joe 'Paul' Doherty admitted illicitly selling beer and spirits to patrons in a large converted outbuilding to the rear of his home at Ballyloskey, Carndonagh.
The evenings were dubbed the 'Hooley at the Barn' and were attended by people after the pubs closed, Carndonagh District Court heard.
Gardaí went to the premises under warrant at 1.40am on July 25, 2010. There were a number of cars outside and inside they found two women sitting at an entrance table. Music was playing and some 40 people were in the premises. There was dancing and people drinking beer and spirits out of glasses, the court was told.
Patrons were charged €5 for a "cloakroom ticket" which entitled them to two free drinks at a stocked bar to the rear. The cloakroom tickets were entered into a raffle at the end of the night to win a dinner for two. Further tickets could be purchased in return for more drinks, the court heard.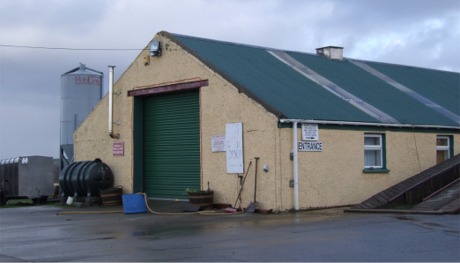 Joe 'Paul' Doherty's outbuilding at Ballyloskey, Carndonagh, where patrons attended 'Hoolies at the Barn'.
Mr Doherty, who runs a power-washing service, admitted to gardaí on the night that he did not have an alcohol licence or a public dance licence.
He said that, after expenses, he gave the money to local charities. The dance on the night in question was in aid of a local soccer club.
Defence solicitor, Frank Dorrian, said his client, a married man in his 50s with children, was heavily involved in community activities. He had been "completely candid" and explained the whole operation to gardaí on the night. Mr Dorrian said Mr Doherty, who had no previous convictions, genuinely believed that because there were no cash transactions made at the bar, it did not constitute selling drink.
"It was not his intention to become a rich man. It was a diversion, a bit of fun in the community," said Mr Dorrian. Judge Paul Kelly said times were tough enough for licensed vintners without illicit operators.
"Trade is difficult for people who are licensed and compliant. People trading outside the law are adding to the difficulties of legitimate people," said the judge.
He said if the defendant was "well disposed towards local charities" he would ask him to contribute to one. He ordered him to donate €500 to Inishowen autism support group, iCARE. He allowed the defendant two months to pay the money and adjourned the case until December 20 when Mr Doherty is likely to get the benefit of the Probation Act.