Malin village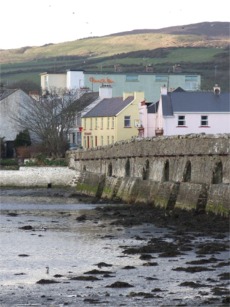 If you have any community notes you would like published please tell us...
Email: notes@inishowennews.com
:: Malin/Malin Head/Glengad
ALONE seek volunteers
Would you be willing to provide companionship or make calls to older people once a week? ALONE are seeking volunteers in your area. Full training and support provided. If interested please sign up here: https://alone.ie/volunteers/ .
For more information, contact Catherine on catherine.gallagher@alone.ie or on 086 0753868.
Malin Social Centre would love to welcome new members at K and M Connolly Foundation, Malin from 11am to 4pm every Wednesday. They have a full day of activities and music by local artists. Transport is provided for all of the Malin area. Lunch and tea included for €5. Come along and enjoy a day out! Contact Helen on 086 0333100 or Eleanor on 086 8370154 or just call in on Wednesdays.

Chiropody / Podiatry Clinic open to the public every Wednesday & Thursday at the Kathleen & Michael Connolly foundation Malin social centre. For appointment please call Kate Monagle on 087 9700008.

Malin Head Community Alert / Neighbourhood Watch Scheme: New Telephone Number is 086 2750202. Contact the number if you notice anything suspicious or have any concerns. Buncrana Gardaí number is 074 9320540. Report anything suspicious.

Malin Head Community Centre: Spinning and Weaving course. If interested in reviving an old craft, get in contact with the centre on 074 9370478. The course will be on Tuesdays from 10am to 12noon and is funded by the Change Makers Project.

Malin GAA: Pool Room is back open at the weekends at 8:30pm-11:00pm every Friday and Sunday nights. Contact John McLaughlin (JM) for details.

Wheelchair accessible bus available: New telephone number for bookings for Wheelchair Accessible Bus is 0838091435. Calls can be taken from 10am-5pm Monday, Tuesday and Friday. On Wednesday and Thursday please leave a message and your call will be returned. 48 hours booking notice required. New members welcome.

Classes at Malin Head Community Centre: For further details, check out our website www.malinheadcommunity.ie or call 074 93 70478. Centre Hours: Monday – Thursday: 9am – 5.30pm. Friday: 9am – 4.30pm

Malin Head Heritage Group plans to explore and record the history of the local townlands over the new few years. Starting with Ballyhillion, we are looking for family histories of the Ballyhillion homes, old place names, photos any information at all. If you can help please contact Nell Gallagher or Teresa (Mullin) Doherty at candtdoherty@eircom.net .

New Malin Heritage Booklet: Available in local shops at only €2.

Facility bookings: All bookings for sports hall/gym should be made through Susan Byrne 0867832242. All bookings for pitch should be made through Gerard McLaughlin 0868704255. All bookings for upstairs / function room should be made through John McLaughlin 0863858654. Remember the clubhouse is available for private functions/parties with stage, sound system, kitchen, bar and toilet facilities - contact John on the above number.
Glengad Community Association
Events include: self-regulatory gym, boat building, arts & crafts, sail stitching, quilting, clothes making, patchwork, woodworking (fetac level 4) framing, cooking, stage school, storytelling, performing arts, dancing, traditional music, games, cycling, fitness, boxercise, "so you wannabe a professional footballer" days, Peace & Reconciliation workshops, garda vetting workshop, child protection course, child officer course, first aid course, youth development course, maritime qualifications in sailing & rowing. Further events by invitation include--"so you wanna join a professional football academy"- workshops across islands-workshops on steel works.
Our thanks goes to the International Fund for Ireland who will be helping to fund some of these events. Tel: 937 9969 Mob: 085 166 1780 e-mail info@glengadcrc.ie website www.glengadcrc.ie .
Are you aged 65 or over? Then why not avail of our Free Internet Training which can be provided in a variety of settings such as your own home, libraries, day centres or community facilities. You will be taught how to make use of the web, send email, Skype, banking online, etc. For more information or to book a place contact Sinead at Inishowen Development Partnership on 9362218.

If you are feeling lonely or dealing with anxiety, depression, or panic attacks or if you just need to feel a sense of belonging with like-minded people, support is there for you at Grow meetings. Grow is a 12 step programme working in a confidential weekly meeting supporting and helping us to face life's challenges within a caring and sharing environment. Grow weekly meeting in Carndonagh is held on Wednesdays at 8pm in Carndonagh Community Hospital. For further information contact 086 7702860.

A Craft Club is held every Thursday from 7.30pm-10pm at St Patrick's Hall, Malin. All crafters welcome. Bring your crafts with you, be it knitting, sewing, cross stitch, card marking, scrap booking or any other craft you may enjoy. Share ideas, learn new crafts and make new friends. Classes offered for beginners in scrap booking and card making. €1.50 includes refreshments. Contact Dee on 087 7683709 or email inishowencraftclub@hotmail.com .

Whist is held every Monday night in Malin Head NS, commencing at 8.30pm.

Malin Bingo is held every Sunday night in St Patrick's Hall, Malin, commencing at 8.30pm.

Fit for Life Group – Inishowen Athletic Club. If you would like to take up running and gain advice and support along the way then why not join our Fit for Life Group. It is specifically designed for beginners who will receive coaching, schedules and basic advice to achieve whatever goal they may wish to achieve. Anyone who is interested in joining this group please come along to any of the following venues: Buncrana Leisure Centre on Tuesday evenings at 6.30pm and Carndonagh SuperValu Car Park on Thursday evenings at 6.30pm. For further information contact Susan McGrath on 087 2931460 or Pauline Doherty on 087 7773769.

Good Morning Service: Do you know of an older person living alone who could benefit from a weekly phone call? Talk to them about the service and give them our contact details or if you need more information give us a call and we will explain the service to you. We also need volunteers so if you have a few hours a week to spare please consider joining our team. No experience necessary as full training will be given. For further enquiries and application forms, please ring Frances or Joan at Good Morning Service, 6 Ardaravan Square, Buncrana on 074 93 21598.