Letterkenny
If you have any community notes you would like published please tell us...
Email: notes@inishowennews.com
:: Letterkenny
Mary's Meals Christmas Fayre
Mary's Meals Christmas Fayre will take place in Trinity Hall, Letterkenny, (beside Cathedral carpark) on Saturday, 26th November 2022 from 10:30 am to 3:30 pm.
Lots of Christmas gifts, decorations, and home bakes for everyone. Great bargains to be had while supporting a very good cause. Ä18,30 will feed a child for a full school year.
Mr & Mrs Claus will attend and Gary Mangan will provide some lively entertainment. Thank you all for your continuing support and we look forward to a fun filled day.

Family Fun Day for Irish Wheelchair Association 26.05.22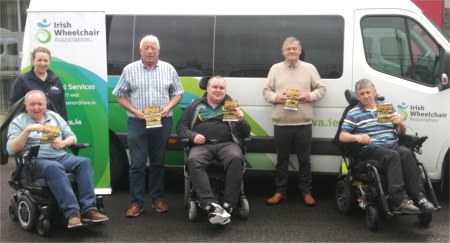 Pictured at the launch of the Family Fun Day of new and Vintage Auto show Cars and Tractors due to take place at the Clanree Hotel, Letterkenny on 26th June 1pm, with all proceeds going to Irish Wheelchair Association (IWA) based in Donegal.
In the picture are Martin Cassidy, Michael Nelis, Ron Parke, Nicole Sheridan , Michael Crampsie and Dessie Dolan.

After a tough 2 years in fundraising for all charities, IWA were delighted when approached by Michael and Dessie in October of 2021 to discuss running the Vintage Day in 2022 with all proceeds being donated on the day to IWA Donegal.

IWA provides a vital service and continued to do so, to those with physical disabilities living in our local communities. The service is inclusive of Community Centres, School of Motoring, Assisted Living Services, Parking Discs, accessible transport, Charity Shops and support in gaining advice and grant applications. As we discovered during the pandemic our services are so important to getting people out into their communities and socialising and now in 2022 we are glad to be back in action on all areas.

Should you require further information on our services, please contact Mary McGrenra on 087 7448184 or alternatively on 074 91 77448.

So come along on the day see some fantastic vehicles, win spot prizes and be entertained by Paul McCahill.
ALONE seek volunteers
Would you be willing to provide companionship or make calls to older people once a week? ALONE are seeking volunteers in your area. Full training and support provided. If interested please sign up here: https://alone.ie/volunteers/ .
For more information, contact Catherine on catherine.gallagher@alone.ie or on 086 0753868.
Donegal Womenís Centre provides a space where women can pursue their own healing and development in a safe, caring and supportive environment. The centre developed from the coming together of a group of women in the late eighties who were committed to responding in a holistic way to the emotional, psychological, social and educational needs of women in Donegal.
For more information on Donegal Womenís Centre please visit www.donegalwomenscentre.ie .
A weekly support group for stroke survivors in Donegal was launched by the Irish Heart Foundation and members of Letterkenny General Hospital stroke team.
The aim of the group is to offer support, assistance, advice, physical therapies and a social outlet to stroke survivors and their carers. The group will meet weekly every Tuesday from 11am to 1pm in the Silver Tassie Hotel. The group is free to join and attend and will be open to anyone who has had a stroke, or has been affected by the condition.
Please contact Tracy Egan in the Irish Heart Foundation by email at tegan@irisheart.ie or by calling 087 292 0956.
Anam Cara offer information and support to all bereaved parents.
For more information see www.anamcara.ie or ring our information line on 085 2888 888.
Letterkenny Menís shed are looking for your old or unused tools for our Menís shed in Letterkenny. We can collect from you at your convenience. Call us on: 07491-20633, Mob. 086-2270437. E-mail: mensshedlkenny@gmail.com .
What is Menís Shed: Menís Shed is a friendly and welcoming place where men come together and undertake a variety of mutually agreed activities, woodworking, DIY, repairing or making furniture to name but a few. Menís Sheds are open to all men regardless of age, background or ability. It is a place where you can share your skills and knowledge with others, learn new skills and develop your old skills.
New men are always welcome and can be assured that there is something of interest for everyone as the men decide their own projects and their own program of events. Get in touch, call in for a cuppa and a chat.
Local Link Donegal now operate two services to Letterkenny on a Sunday - one at midday & one in evening. For more info on this and all services Tel: 074 97 41644 or visit www.locallinkdonegal.ie .
Breakout is a youth drop-in service for young gay and lesbian people in Donegal. The group is open to 14-18 year olds and is also open to bisexual or transgender people. The service meets weekly and aims to provide a safe space where young people can be themselves without fear of prejudice. For more information contact Sheena or Marty on text line 0857411607 or email lgbt@donegalyouthservice.ie .