Culdaff beach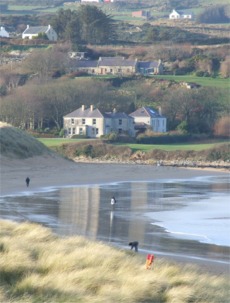 If you have any community notes you would like published please tell us...
Email: notes@inishowennews.com
:: Culdaff/Carrowmenagh/Gleneely
Culdaff Senior Citizens Friday Club is on every Friday at 11.30am in the Wee Hall. Enjoy a couple of hours playing bingo, board-games, listening to music or reading books from the book club. There will be time for a cup of tea and a chat. Meet new friends. Any person over 50 is welcome to join.

Carrowmenagh Community Centre provides a range of services. If you would like any typing, printing, photocopying, e-mailing, laminating, or binding done, you can avail of these services for a small fee. You can also book the hall for meetings, courses, etc. Telephone 07493 67251.
Courses in Serenity House, Moville: Patchwork, Art Classes, Crochet, Food Hygiene, Train the Trainer, Payroll, ECDL, ECDL Advance, FETAC Computer level 3 and 4 and Aerobics and walking class. Call 0749382945 to book a place on any of these courses.
Gleneely Wheelers Cycling Club: The club meet every Sunday morning at 10am and Sunday afternoons at 2pm and on a Wednesday evening at 7pm at Carrick's Bar to go on a leisure cycle. This is a great way to exercise and get fit. Anyone wishing to join must wear a helmet and hi-vis jacket.

Ceolan school of music is a newly established community initiative for teaching music to children aged 6-18 years.
Our main focus is traditional Irish music. Tuition will be offered in 1) whistle 2) fiddle 3) button accordion 4) piano accordion 5) traditional singing. Tuition will also be available in other instruments depending on demand: harp/ flute/ pipes /banjo /mandolin /bouzouki /traditional piano accompaniment / introductory classical violin / music theory.
Fees- €10 to enrol in the music school for the year. This covers operational costs and provision of all teaching materials. Each weekly lesson is €6/hour. Pupils will be divided into classes depending on ability. Class numbers will be limited.
Classes will be held on Tuesday evenings in Moville Community College. We have a limited stock of fiddles that can be loaned out for a small fee. For further information and to enrol: please contact Clodagh Warnock / Roisin Mc Grory on 086 1522322.