Sailing with the Senator
02.09.09
Greencastle teacher recalls the late Ted Kennedy

by Damian Dowds, Inishowen Independent

AS TRIBUTES poured in from around the world following the death of Ted Kennedy, one local woman recalled a summer working for the US Senator at his Hyannisport holiday home in Massachusetts.
Margaret Mulhall from Greencastle worked for Senator Ted Kennedy in the summer of 1997, and last week recalled her time with the man and the wider Kennedy family.
A student at NUI Maynooth at the time, Margaret and her friend Caroline Gannon decided to spend that summer working on a J1 visa in the United States and an agency placed them with the Kennedy family.
"We were gobsmacked when we learned we were going to work for the Kennedys," Margaret recalled. "It was our first time on an airplane, our first time out of Ireland, and here we were going to work for this very famous man."
The girls arrived at the Kennedy Compound at Hyannisport on Cape Cod a couple of days before the family arrived and were shown the ropes.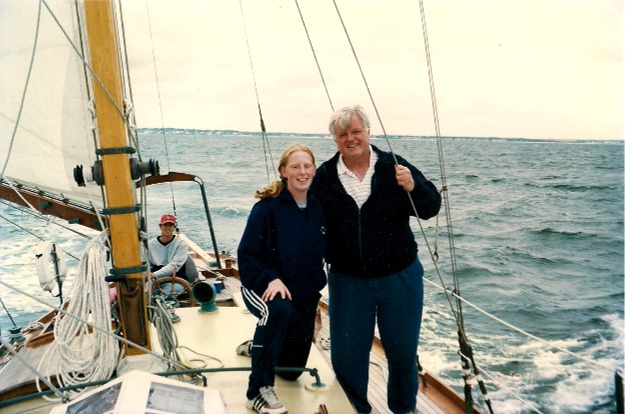 "We were very young, and in hindsight, we didn't appreciate the immensity of the privileged experience that was to enfold for us. On first meeting Ted, he was infectiously personable and genuinely interested in hearing our story," she recalled.
"I don't know whether it was because we were young, or because we were Irish, but he warmly welcomed Caroline and I into his duties as a boss, and into his home as a man and as a friend. Whether it being included in the family rituals of heading out for ice cream, or heading to Sunday Mass along with his children, he always made time for us. In particular, one of the nicest and most fun memories I have of Ted is spending the day sailing on his yacht 'The Mya'".
"The Senator was extremely proud of his Irish heritage and this was proven several times during his memorial service; especially when the-evening poignantly closed with his favourite song 'When Irish eyes are smiling'. I can see why he instantly connected with us"
"Being renowned for their social gatherings and soirees, Ted would include and introduce us with everyone who came to stay. I particularly remember meeting the late JFK Junior and his wife Carolyn. He was the centre hold of the family. It's difficult to accurately describe how full of life he was, and how he held himself with an effortless self-possession. When he was in the house there was a great energy about the place, and when he'd leave to go it was as though something had closed down"
Senator Kennedy travelled to Ireland that summer as the negotiations that ultimately led to the signing of the Good Friday Agreement the following year reached a delicate stage.
"While he was involved in such intense political issues in Northern Ireland, he still insisted on meeting with my parents, Bridget and Willie, and with Caroline's at the American Embassy when he was in Ireland," Margaret recalled. "This spoke volumes about the man who could operate at such a high political level and yet had the personal touch and concern to meet with our parents. I suppose it's only now as a history teacher that I can truly appreciate his impact and effect in the North, and to be able to observe history being made from such a close view was indeed a great privilege for me."
Margaret returned to college that September and now teaches in Moville Community College. After graduation her friend Caroline returned to work with Ted Kennedy as a personal assistant, working with him right up until his death. She phoned Margaret early last Wednesday morning to say that Ted has passed on.
"While I knew he wasn't well, it was still a shock to hear he had died," Margaret said. "I've shed a few tears and I've been watching all the TV coverage of the wake and the funeral. I've dug out my diary and photographs from that summer. I knew that he was a great person, but with all the tributes that have been paid it's probably only now that I really appreciate what a great champion he was for the ordinary man and a great ambassador for Irish immigrants, with the Immigration Bill being one of his main concerns."
"The America to which Ted was elected Senator 47 years ago was often a cold house for Irish people. One of over 2,500 Bills that bear his name, the Immigration Bill, ironically paved the way for me to work for him some 35 years later. In this respect I can thank him for my unforgettable summer in more ways than one."