Canada to the rescue
11.05.09
Newfoundlanders in Trans-Atlantic Search and Rescue Games

by Simon McGeady, Inishowen Independent

SUNDAY May 3 was a great day in the history of the Greencastle Coast Guard when they hosted the Trans Atlantic Search and Rescue Games.
Rescue servicemen and women from all over Ireland gathered in the coastal village, where they were joined by eight members of the North Avalon Wolverines, a Search and Rescue Unit based near St John's, the capital of Newfoundland.
For the games, the various units were split into teams of four, where they completed several land-based rescue exercised including 'compass and pacing'.
"The games were geared to the kind of scenarios that you would get into during actual rescue activities," said Greencastle Coastguard's Deputy Officer in Charge, Michael Doherty, who added that it was fascinating to see how the Canadians approached the problems set for them.
As well as the Canadians and the hosts, participants included the RNLI, the Red Cross, the Coleraine Community Rescue Service, the Lough Swilly and Killybegs Lifeboats.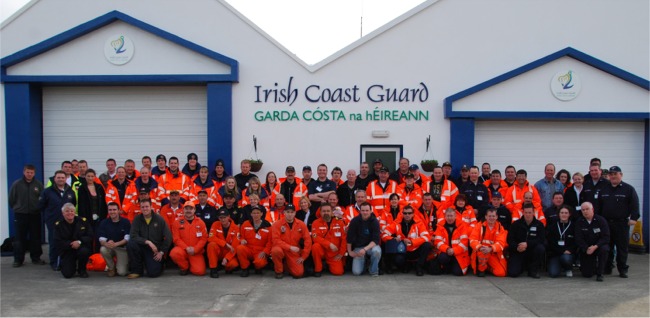 Other crews came from as far away as Greystones, Dingle and Crosshaven. But there was no doubt who the guests of honour were.
Perry Bowering, of the Newfoundland and Labrador Search and Rescue Association: "We first met up with the these Irish, including Charlie Cavanagh [Greencastle Coastguard], on Prince Edward Island in 2005 at the Canadian SARSCENE games. We met again in British Columbia two years ago and have been friends ever since."
North Avalon won last year's Canadian SARSCENE competition. Immediately following the event the Wolverines were called to a real-life incident, a search for a missing hunter. The nine Irish Coast Guard volunteers attending the games joined in a search. The Hunter was found alive and well.
None of the eight Canadians from North Avalon have been to Ireland before, but they are all au fait with the Emerald Isle.
" There are big similarities between Ireland and Newfoundland. Many people emigrated from Ireland and settled there. The landscape is very similar. The culture is steeped in an Irish heritage, including traditional music. Some people say that our accent is more Irish sounding than Canadian, after all you are our closest neighbours to the East!" added Mr Bowering.
This week the Canadians travel to Ballybunion for the Irish Joint Search and Rescue Games before flying home on May 11. For more photos, click here