Minister picks Inishowen for holiday
19.08.10
by Linda McGrory

INISHOWEN'S tourism offering has a champion in Agriculture Minister, Brendan Smith, who revealed that the peninsula is one of his favourite holiday destinations.
Mr Smith, spent five days travelling around the region in the first week of August and said he would be coming back again in the future.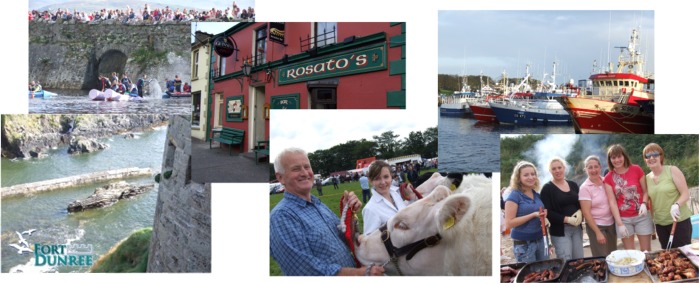 He told InishowenNews.com: ""I toured all over Inishowen as I have done on previous occasions as well. I really enjoyed the area and the great hospitality. I look forward to a return visit in the future."
Green Party Minister of State, Mary White, is another politician who is choosing Co Donegal this year.
Her spokesperson said: "she is thinking of taking five days walking the Bluestack Mountains in Donegal but she hasn't taken her holidays yet".
Love or hate the word - it appears many of the country's leading politicians have opted for 'staycations' this year in a bid to boost the flagging Irish tourism industry.
Some were tight-lipped about where they donned their shorts and sandals this summer but many are proud to reveal they ditched the passports and packed up their troubles for stay-at-home breaks in places like Kerry, Donegal, Galway, Tipperary and Wexford.
For those who went abroad, Italy, France, Germany and Scotland where among the chosen destinations.
Perhaps unsurprisingly, given the sorry state of the industry she heads up, Tourism Minister Mary Hanafin, opted to spend her holiday euros at home.
She is taking her summer break in counties Wexford and Tipperary where she will spend quality time with family and friends. As other years, Brian Cowen and his family decamped to beautiful Connemara.
Meanwhile, no summer holiday details were forthcoming for Finance Minister Brian Lenihan although some say he's been stranded without a paddle in a black hole called Anglo.
Meanwhile, Justice Minister Dermot Ahern's people said: "We do not comment on the Minister's private arrangements".
Office of Public Works (OPW) Minister Martin Mansergh spent a week in Co Kerry where, according to his spokesperson, "he held meetings and visited An Bhlascáoid Mór". "(Mr Mansergh) is currently on a week's holidays in Germany and he will be spending a week in Scotland before returning to the office in late August," added the spokesperson.
Enterprise Minister Batt O'Keeffe is currently in Cork "dealing with constituency matters" while his colleague, Minister of State, Billy Kelleher "does not discuss his holiday details".
Meanwhile, Social Protection Minister Eamon Ó Cuív took a week's holiday in Cill na Martra in Co Cork and spent another week at home in Corr na Móna in the Connemara Gaeltacht.
The Department of Health would not divulge where Ms Harney and ministers of state, John Moloney, Aine Brady and Barry Andrews, went to get away from it all. A spokesperson said: "Thanks for the e-mail, however the holiday arrangements of the Ministers are a private matter and the Department does not wish to comment any further on the issue."
Neither were holiday details forthcoming for Foreign Affairs Minister, Micheal Martin while a spokesperson for his colleague, Minister for State, Peter Power said: "We don't comment on the Minister's personal holiday arrangements".
In the Opposition camp, Fine Gael leader, Deputy Enda Kenny travelled to Italy on holiday, but sadly had to cut his break short this week when his personal assistant and long-term friend died suddenly at the weekend.
Labour leader Eamon Gilmore "was in the West for a couple of weeks" while his deputy, Joan Burton was in France for an Irish music festival. Ms Burton also plans to have a holiday in the West, said a spokesperson.
Irish Tourism Industry Confederation chief executive, Eamon Keon, said it would take more than Government ministers holidaying at home to cure the ills of the tourism sector. He said Ireland needed around eight million visitors annually to recover.
"It's nice to know Cabinet ministers are giving a vote of confidence to the Irish tourism sector and setting a good example. But we don't have an issue with ministers going abroad - they might even learn something. You have to get out a see the world too," said Mr Keon.