Thatch Repair Grant Scheme
15.03.23
DONEGAL County Council's Thatch Repair Grant Scheme 2023 has opened for applications. Now in its fifth year, the scheme assists the owners and occupiers of thatched dwellings and businesses with their maintenance and repair.

This year's grant scheme consists of two strands:
• Stream 1 will provide advice and funding for small-scale thatch repairs up to €3,000
• Stream 2 will provide support for one large-scale re-thatching project up to €15,000 where the historic thatch building contributes to landscape character, history, culture or tourism.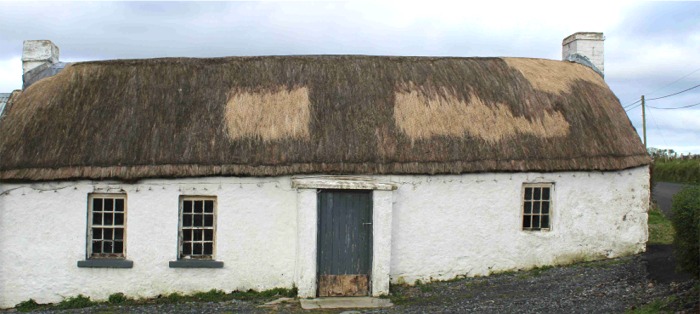 Rope-thatched cottage in Ballykeeny, Inishowen was one of the properties that benefited under the Thatch Repair Grant Scheme. The scheme allows for small scale thatch repairs as evidenced by the 'patch' repairs shown here.
The Thatch Repair Grant Scheme is open for applications at www.donegalcoco.ie until 12 noon on Friday, April 21.

Joseph Gallagher, Heritage Officer, explains: "The impact of Donegal County Council's Thatch Repair Grant Scheme over the past four years has been considerable supporting 78 thatch repair projects throughout the county.
"Despite the success of the scheme, the rate of loss of historic thatch in County Donegal continues. Within the past year, three historic thatched roofs have been replaced with slate on traditional buildings in Ballyshannon, ,Glencolmcille and Lettermacaward without prior consent.
"Homeowners are reminded that permission is required from Donegal County Council to replace an historic thatched roof as it constitutes a material alteration to the structure. Challenges to be addressed also include the limited number of thatchers, especially rope thatchers, in the county and the lack of availability of thatching materials which threaten the future of these iconic buildings."

Applications forms for the Thatch Repair Grant Scheme are available online from at www.donegalcoco.ie or by contacting Joseph Gallagher or Collette Beattie on 074 91 53900 or by email at thatch@donegalcoco.ie .