Sail Training Ireland awards ceremony

09.02.23
TRAINEES who made outstanding contributions to the Tall Ships voyages organised in 2022 by the charity Sail Training Ireland were recognised at the Annual Awards Ceremony in the Mansion House, Dublin on 28th January 2023.

The award winners were among the 546 trainees who sailed on voyages on tall ships last year. Since 2011, 3,000 young people from all backgrounds and abilities have availed of the opportunities provided by Sail Training Ireland (STIrl) to participate in training and self-development programmes. These are designed to offer a change in direction, perspective, attitude, and behaviour leading to self-confidence, motivation, and the acquisition of new skills.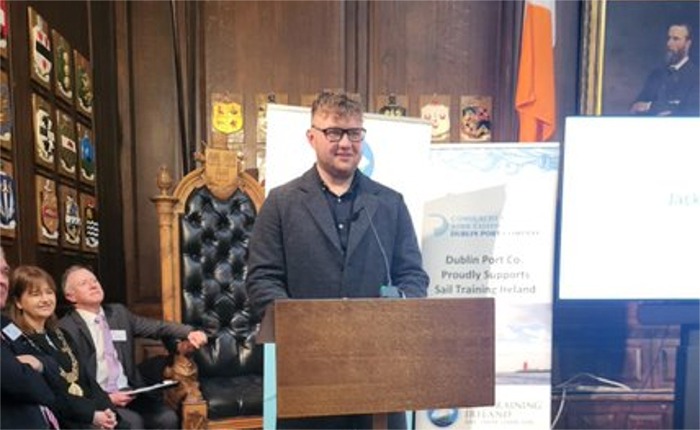 Jack Kearney from Moville Sea Scouts speaking at the Sail Training Ireland awards ceremony in the Mansion House.
Trainees include young people from residential care homes, Garda Diversion Projects, Youth and Community groups and Schools, drug rehabilitation programmes, asylum seekers and young people with visual, hearing and physical impairments from across Ireland.