One Donegal Social Inclusion Week
24.03.23
On Saturday, March 25, Donegal County Council will launch Social Inclusion Week at 1:30pm in the An Grianan Theatre, Letterkenny followed by a festival of colour hosted by the Letterkenny Indian Community. This Colour Festival will be a family event for everyone where you will make unforgettable memories.

Social Inclusion Week is a series of events organised throughout the county to increase awareness and understanding of inclusion and diversity.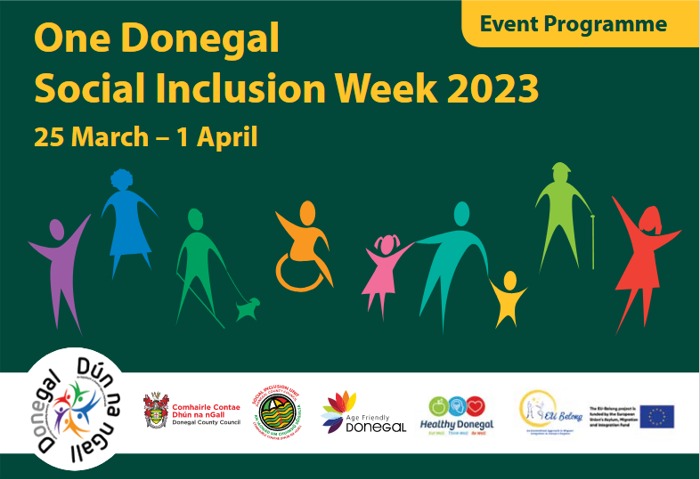 Download Social Inclusion Week 2023 event programme at Donegalcoco.ie.
Events during the week in Inishowen include:

• Tuesday 28 March at 10am
Rhyme Time Play and Stay Session in Carndonagh Community Library. Join staff from the Donegal County Childcare Committee as they sing songs and rhymes for children aged 0-4.

• Tuesday 28 March at 11am
Slaintecare Healthy Food Made Easy in Mens Shed, Moville. Supporting men through a food and nutrition programme.

• Wednesday 29 March at 10am
Read DL school quiz in Buncrana Community Library. A school quiz for national school children based on the Read DL book, The Lost Girl by Catherine Boyle.

• Wednesday 29 March at 11am
Woodlands for Wellbeing Walk in Swan Park, Buncrana. This is a walking programme set in the woodlands environment, which promotes positive mental wellbeing and also an opportunity to learn about the environment and meet new people. Participants meet, walk and have some refreshments after in a local community setting.

• Wednesday 29 March at 7pm
Pop-up restaurant of Ukrainian kitchen in McGrorys Hotel, Culdaff. This event will provide social inclusion for all participants and will be nice opportunity to create interpersonal links between Ukrainian and local communities.

• Thursday 30 March at 10am
Join Pathways to Progress workshop with IDP in their Buncrana Office. Workshop on range of supports available with IDP to include Employment & Self-employment supports, Education, Training and Wellbeing.

• Thursday 30 March at 12:30pm
Ukrainian Quilting Group in Carndonagh Community Library. An opportunity to join our Ukrainian friends in a quilting class. Everyone welcome.

One Donegal Social Inclusion Week 2023 event programme can be downloaded from www.donegalcoco.ie or picked up at your local public service centre.