Read DL 2023 launches live on air

24.02.23
READ DL was launched live on air at Creeslough National School on Tuesday (21st February) during an outside broadcast with John Breslin from Highland Radio.

The Read DL initiative is based on the worldwide 'One Book, One Community' and began life in 2011 as Read LK (Letterkenny). Its aim was simple: to create an awareness and love of reading in a local area. It has since expanded to incorporate the whole county with the continuing purpose of reminding us about the joy of reading for all the family and to encourage local communities to read.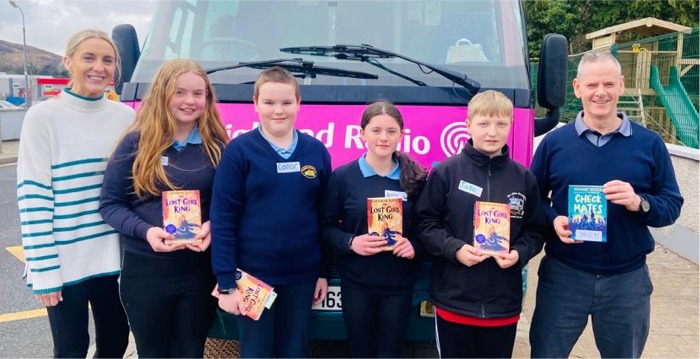 Pupils from Creeslough National School enjoyed their opportunity to speak on the radio along with teacher Ms Veronica Devine and John Breslin from Highland Radio.
This year, for 2023, the chosen book is a new title called The Lost Girl King by Catherine Doyle.
Amy and Liam Bell have been packed off to stay at Gran's house in the wilds of Connemara for the summer. Out for a walk on the first morning of their holiday, they trace the flight of a hawk to a nearby waterfall – only to watch the bird disappear through it. Packed with edge-of-your seat adventure, incredible imagination, humour and warmth, The Lost Girl King is the rare kind of story that has you reading long past lights out.

This year Read DL has distributed 2,200 books across Donegal and within hours of opening registration, were fully subscribed.
Speaking on behalf of the Read DL committee, Joseph Kelly, Executive Librarian and Right to Read Coordinator with Donegal County Library Service, was delighted with the demand. "Again, we have seen huge interest in participating in Read DL. Within a few hours all of the books had been allocated to registered schools, groups and families in all parts of the county."
"While all the available books have been allocated, there are still ways to participate such as visiting www.donegallibrary.ie and reserving a copy of the book. Or you call into their local branch as they are fully stocked with copies for lending."

Read DL runs from now until March 30th with lots of reading activities and events taking place. Throughout the festival there will be opportunities to get involved by showcasing any activities participants get up to such as art, music, writing or videos. The Read DL annual Creative Writing Competition is back as are teaching resources to accompany the book.

Anyone interested in participating this year can connect with Read DL on social media: Facebook @readdlsocial, Twitter @ReadDonegal, Instagram @readdonegal or visit www.readdonegal.com .