Inishowen Pride Parade 2023 in Buncrana
26.05.23
Following the success of Donegal's Pride Parade in Buncrana last June, Inishowen Pride have confirmed plans for the 2023 parade.

Spokesperson for Inishowen Pride, Elizabeth Curran, said: "Building on the seismic success of the 2022 Pride parade, we are so excited to announce that we will be back in 2023 with another community-led pride parade at 3pm on Sunday 4th June 2023 in Buncrana followed by a fantastic evening of entertainment."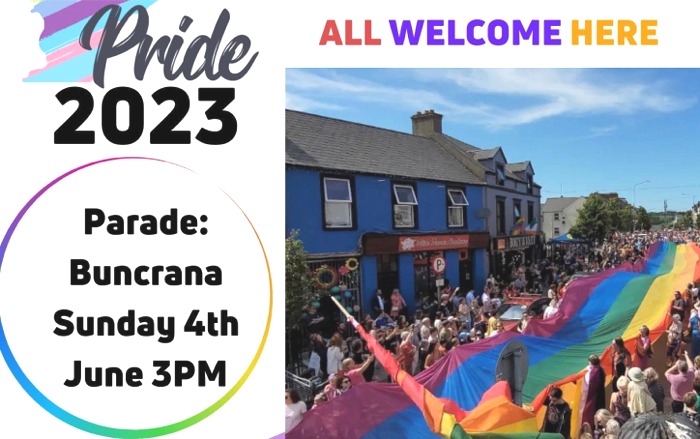 Elizabeth added: "The 2022 Pride Parade was such a wonderful event for Inishowen and County Donegal, gaining media attention locally, nationally, and internationally. Buncrana looked amazing as the community rallied together in preparation for its' first Pride Parade. On entering the town, visitors were welcomed by the rainbow flag, raised proudly by Buncrana Tidy Towns Committee, passing by the flags at the local sports clubs and then on towards the main street, where the businesses had decorated their windows and shop fronts with rainbow flags and bunting for the month of June.

Poignant murals were painted and updated by local arts groups, while on the day of the parade, flags were flying high on the lamp poles lining the main street. There was a happy buzz in the air for the duration of weekend, as thousands of people of all ages arrived to Buncrana to line the route, waving their flags to show their support and solidarity for our LGBTQI+ community near and far."

Ms Curran continued: "We were overjoyed last year to have received so much support for a Pride Parade in Inishowen/Donegal. Our small team worked incredibly hard to pull such a big event together in a short space of time and we didn't do it alone. We adopted a grass-roots approach and sought the help of the Inishowen community to help along the way. We couldn't have done it without the support of the local business community, individuals at home and away, who donated and supported the parade and Donegal County Council and a high number of the Inishowen/Donegal County councillors also gave their support. The committee wish to thank sincerely each person who helped in any way to make what once was only a dream, a reality for so many. We can't wait to see you all back in Inishowen again for Inishowen for Donegal Pride Sunday June 4th 2023."

This year preparations for Inishowen Pride festival are well underway with numerous banner making workshops taking place across the peninsula facilitated by Clonmany Community Centre, Artlink Fort Dunree and Foroige. The Mill Conservation Group also held a fundraiser for Pride last weekend by hosting a fabulous Rainbow Tea Party.

The Inishowen Pride festival will kick off with the unveiling of this year's pride mural and dance flashmob on Sunday May 28th in Bodywork's Buncrana at 1:30pm and everyone is welcome to attend. The mural is specially commissioned by artist Carl Porter, who is known for his Derry Girls mural which is a huge tourist attraction in Derry.

Inishowen Pride weekend has a extensive programme of events. Changemakers and Disappear Here Film Club will host a series of LGBTQ+ themed short films on Friday 2nd June at 7.30pm in the Exchange, followed by a panel discussion. The film screening will take place alongside the photo exhibition "Where Love is Illegal". Inishowen Pride have partnered with the Witness Exchange Organisation to display this internationally acclaimed photo exhibition for the first time in Ireland.

The Inishowen Pride Walk is scheduled to take place Saturday 3rd June at 10.30pm. Local performers the Henry Girls and Jazz singer Jaime Nanci will perform at a fundraising concert for Pride on Saturday night at 8pm in The Railway Tavern with the doors opening to all following the concert from 10.30pm with DJ entertainment on until late.

The parade participants are asked to gather on Sunday 4th at 1.30pm on the grounds of Scoil Mhuire and groups are asked to register online in advance. Local Links Bus service are providing return transport to Buncrana on the day of the parade from Moville, Malin and Letterkenny. There are limited places so we ask people to book their seat early to avoid disappointment.

Elizabeth concluded: *We are currently looking for people to support Inishowen Pride 2023 in the role of volunteer stewards, those with experience in communications/marketing, photographers and videographers, and creative arts. We are also open to donations and sponsorship from individuals and businesses who would like to help us make this Pride even better than last year. To register your interest email: inishowenpride@gmail.com .