€1m lotto ticket sold in Burnfoot

06.02.23
THE National Lottery have confirmed that a player purchased a winning Quick Pick ticket worth €1 million, in Friday night's (February 3rd) special EuroMillions raffle draw, at Burnfoot Service Station in Inishowen.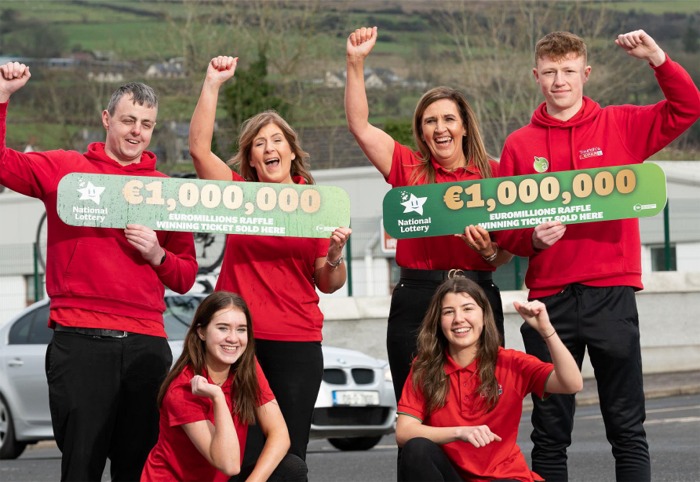 The winning Quick Pick ticket worth €1 million was purchased on the day of the draw at Burnfoot Service Station and the winning raffle code is I-NVD-35065. Pictured celebrating today: (Front L-R) Tamara Gill and Kate Tourish. (Back L-R ) Paul Hegarty, Margaret Tourish, Mary Tourish and Emmett Tourish. Photo Clive Wasson / Mac Innes Photography.
Store owner Mary Tourish has been running the local family-owned service station since 2007 and was in complete shock to get the call that her shop had sold the winning ticket: "I'm still shaking to be honest with you, I just can't believe it. To think that one of our customers is walking around €1 million richer is just unreal!
You start thinking about what an amount like that can do for people and I mean it really would change your life. We're the main shop in a very small village, I mean you couldn't be more local if you tried. Because we're so small you'd never really think that we'd sell one of the big winning tickets, you'd imagine it would be one of the larger shops that would, so it's just fantastic for us, it means everything.
January and February can be a really tough time for retailers, but something like this creates such excitement and gives us a real boost. I won't get a wink of sleep over the next few days, I'm absolutely buzzing!".

The National Lottery has confirmed that it is still waiting for the winner of the €1 million EuroMillions raffle prize from last Friday night to make contact. The winning raffle code is: I-NVD-35065.

The National Lottery has advised all EuroMillions players in the area to check their tickets carefully and if they have a winning ticket in their possession, they should sign it immediately and keep it in a safe place. To claim their prize, the winner is asked to make contact with the prize claims team on 1800 666 222 or email claims@lottery.ie and arrangements will be made for their prize to be paid.