Kate brings her aunts' story to life

02.02.23
THIS Monday 6 February 2023, the first annual holiday dedicated to St Brigid, a tribute will be paid to a Dublin woman who blazed a trail during the 1916 Rising. Carndonagh musician Kate O'Callaghan, a great grand-niece, will bring her Dublin aunts' brave story to life through song.

"This has been a wonderful opportunity for me to engage in a project that has been both personal and commemorative. To sing about my great-grand-aunt on stage on St Brigid's Day in Donegal will make for a very special tribute to her and other courageous trail-blazing women like her,'' said Kate.

Small Behaviours is the second song cycle inspired by Kate O'Callaghan's great-grand aunt and her involvement in the 1916 Rising and War of Independence. The first song-cycle, The Girl with The Beret, was a highlight of the 2016 Donegal Bay and Blue Stacks Festival. It drew from the personal stories of Catherine Rooney (nee Byrne), as detailed in her witness statement to the Irish government's Bureau of Military History.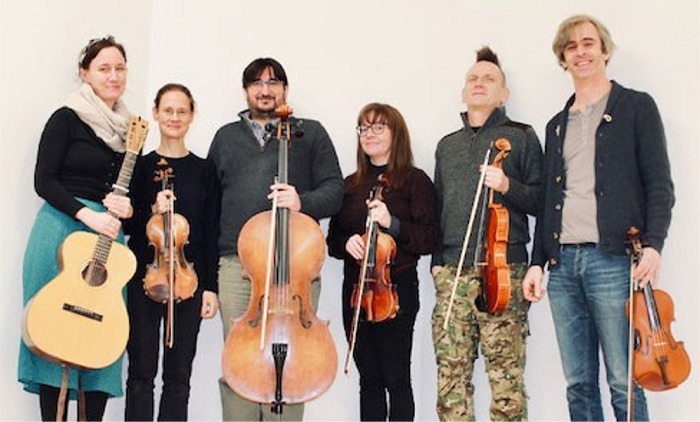 Pictured L-R: Kate O'Callaghan, Orsolya Szabó-Yélamo, Victor Yelamo, Maureen McGranaghan, Robert Peoples, Seamus Devenny.
The concert, Small Behaviours takes place in the Regional Cultural Centre, Letterkenny on Monday 6 February 2023 at 7pm.

Small Behaviours, explores Catherine's experiences following the Rising in Dublin, including gun-running from Scotland, encounters with British Army troops heading off to war, prison breaks, ambushes and the burning of love letters in the aftermath of Bloody Sunday.

Working with creative facilitator, Seamus Devenny, and the Donegal Camerata String Quintet directed by Victor Yelamo, this has been a wonderful opportunity for Kate O'Callaghan to engage in a process that has been both personal and commemorative. The work is very much a reflection on the seemingly 'small behaviours' of ordinary women, which ultimately affected far-reaching social change over time.

The Donegal Camerata String Quintet is led by cellist Victor Yélamo a longtime member of the award-winning Concerto Malaga orchestra and Director of the annual Donegal Chamber Music Festival. The Camerata also includes violinists Orsolya Szabó-Yélamo (also of Concerto Malaga) and Maureen McGranaghan, with Robert Peoples on viola and Micheal McGinty on double bass.

In addition to her own extensive solo work, Kate O'Callaghan has collaborated with various artists and ensembles including Mary Black, The Henry Girls and the Inishowen Gospel Choir. Prior to embarking on the current Witness Statement projects, Kate released a well-received solo album, The Still Beyond, in 2013.

Small Behaviours is on Monday 6 February 2023 at 7pm. Tickets: €15/€12 on sale at www.regionalculturalcentre.com .