Carnís Karol Doherty retains his title
12.06.23
KAROL Doherty, Philip McHugh and Catherine Whoriskey took the honours in the sunshine at the Strabane Lifford Half Marathon on Sunday.

Around 1,000 runners completed the event in energy sapping heat with temperatures rising to over 20 degrees along the 13.1 mile course that straddled both sides of the border.

Carndonaghís Karol Doherty got round in an excellent time of 1:25:07 to retain his wheelchair title.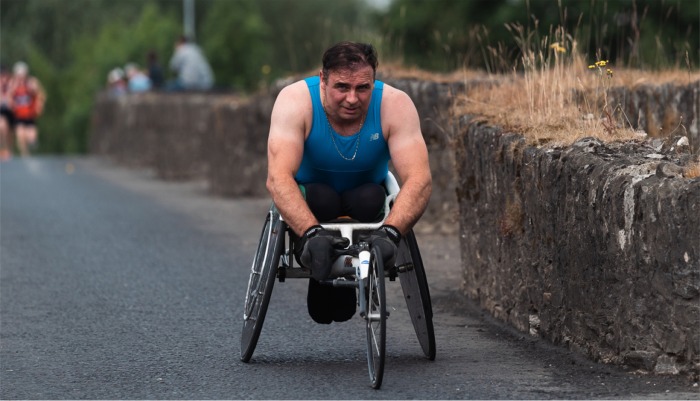 Karol Doherty making his way into Clady.
The top three in the womenís race were Catherine Whoriskey of City of Derry Spartans in 1:18:24, closely followed by Claire McGuigan of Letterkenny AC and Helen McCready.

Letterkenny ACís Philip McHugh took the menís honours in 1:15:29 followed by former Waterside Half Marathon winner Stephen Duncan and Matthew McCoombe.

Hundreds of supporters also took advantage of the warm weather to line the route that started at Meeting House Street in Strabane before crossing the border into Lifford and finishing back on the running track of the Melvin Sports Complex.

Full race results are available at www.myrunresults.com .