Clonmany hosts hugely successful heritage event
08.09.23
THE Market House in Clonmany recently played host to a hugely successful National Heritage Week event, organised by the Clonmany Genealogy & Heritage Group.

The group presented a varied attraction of events entitled 'Of Days Gone By'. The weekend featured an exhibition of old artefacts and photographs, demonstrations of traditional crafts, performances featuring traditional dance and music, and workshops on family tree and DNA research.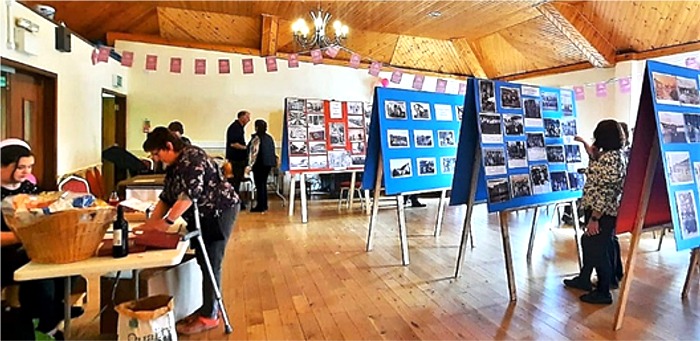 The photograph display being prepared for the exhibition.
A mainstay of the Clonmany Groupís presentations in the past has been exhibitions showcasing many old objects, documents and photos donated by local people, and this exhibition was no exception. Many of the objects on show had not been on display before, including a wedding dress, in perfect condition, from the 1800s, steamer trunks (used to carry emigrants belongings on steamer ships), tilly lamps and a collection of items from a 19th century forge, including a bellows, anvil, tongs and hammers.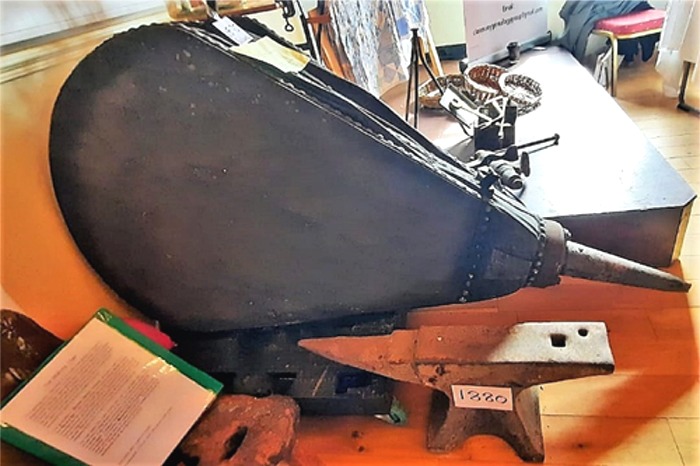 A 19th century bellows, anvil and tools from an old forge.
Another ever popular aspect of the Clonmany Groupís events are the Family Tree and DNA research workshops. Hosted by expert researchers, these workshops have helped people delve into their past and track down ancestors and long forgotten family members. Expanding on previous workshops, researchers specialising in American and Scottish records were able to trace local people who left these shores well over a hundred years ago, to make new lives far away from family and friends, many of whom never returned. Quite a few of the searches continued after the exhibition ended, with the Groupís genealogy team assisting family researchers online.

A new feature of this yearís Heritage Week event was the many interactive demonstrations of traditional skills and crafts. A great large number of crafts were on show, including Butter Making, Jam Making, Baking, Knitting, Quilting, Crocheting, Lace Making, Embroidery, Linen Making and Wool Spinning. Those attending the demonstrations were encouraged to try their hands at the various crafts. People could be seen spinning wool in one corner, while children were churning and butter making in another. A very popular demonstration featured a local expert spinning wool on his spinning wheel before passing the wool over to one of the knitters, who immediately began to knit a woollen hat. From spinning to knitting to finished product in one day.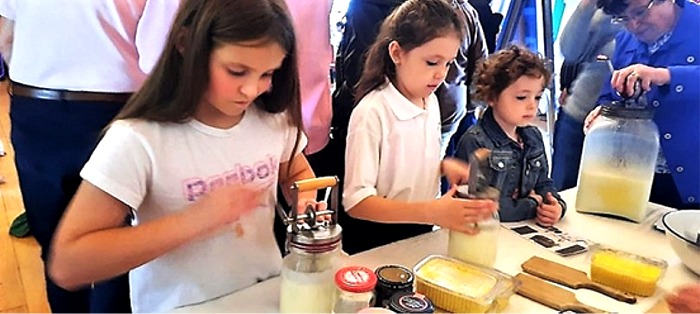 The next generation try their hands at churning and making butter.
The organisers of the crafts demonstrations were pleased to see so many children and young people take an interest in the traditional skills, with many of them making enquiries about the possible availability of classes in the future.

Another new innovation in this event were the demonstrations of traditional music and dancing. Tracey McRory, an All-Ireland Fiddle Champion and Harpist, accompanied by a number of young performers, entertained the attendance with beautiful traditional music. Laura Ganley, a champion SeŠn Nůs / Old Style dancer gave a wonderful demonstration of the art. Other dance demonstrations were provided by Emily Peart and the Sollus Highland Dancers from Co. Tyrone, and the Valerie Harkins School of Dance. Over the two days of the event, the public was entertained by some of the highest quality traditional music and dance, which proved to be one of the highlights of the weekend.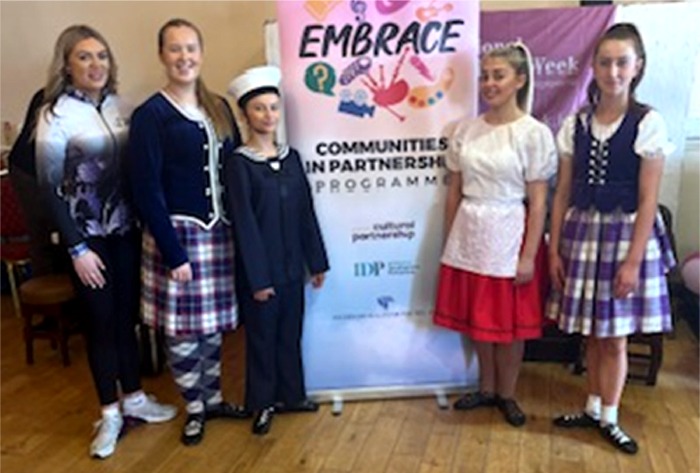 Performers from the Embrace Cross Border Cultural Collaboration.
The Clonmany Genealogy & Heritage Group would like to thank everyone who supported the Heritage Week event in any way, including everyone who donated to the exhibition, all those who provided demonstrations of craft skills, music and dance; those who facilitated workshops; the Market House management team and everyone who attended the event.