Who is your Heritage Hero?
25.08.23
DO you know of a person or group who have worked tirelessly to protect and promote heritage in your area? If you do, then The Heritage Council wants to hear from you. The public are invited to nominate who they feel deserves the 'Heritage Hero' award by completing the short nomination form on the Heritage Week website at HeritageWeek.ie before 5 pm on Thursday, August 31.

Heritage Week took place from August 12 to August 20 and there were 95 events and three digital projects in County Donegal. The National Heritage Awards ceremony will take place at Gloster House in County Offaly on Thursday, October 5.

As well as the National Heritage Hero Award based on nominations from the public, Heritage Week event organisers can nominate their projects or events for the following awards:
• Living Heritage Award
• Irish Language Award
• Wild Child Award
• Water Heritage Award
• Inclusive Event Award
• Sustainability & Climate Award
• County Heritage Award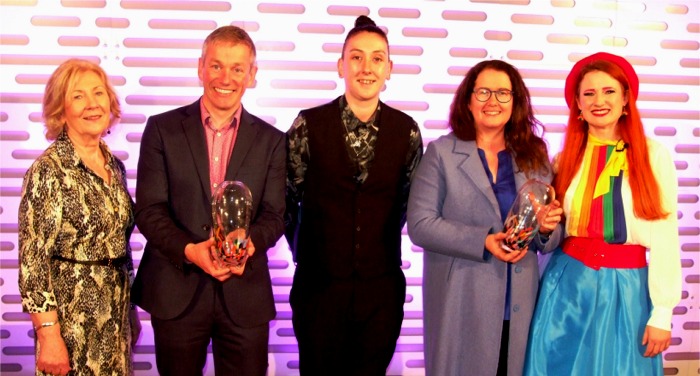 Pictured at last year's National Heritage Week Awards are representatives from the Ballyshannon Regeneration Group and the Donegal County Museum and the Irish Wheelchair Charity Shop in Letterkenny.
Two National Heritage Week Awards were awarded to Donegal-based projects last year:
• The Ballyshannon Regeneration Group won the Sustainable Heritage Award for its 'Ballyshannon Historic Town - Conversation and Conservation' event which was aimed at highlighting the conservation and reuse of historic buildings in the town.

• The Irish Wheelchair Charity Shop in Letterkenny in partnership with the Donegal County Museum won the Sustainable & Inclusive Event Award for its 'Selling the Past Exhibition' which was an interactive exhibition of items donated to Letterkenny's Irish Wheelchair Charity Shop that have links to Donegal's history.

County Donegal has over 250 known heritage groups and one of the highest participation rates in heritage in the country so be sure to nominate your Heritage Hero on the Heritage Week website at www.heritageweek.ie before 5 pm on Thursday, August 31.