Clonmany 'Of Times Gone By' heritage exhibition
26.07.23
BUILDING on the success of their recent exhibition in the Market House, the Clonmany Genealogy and Heritage Group has announced it will host another exhibition, as part of National Heritage Week, on the 19th and 20th of August.

The exhibition, entitled 'Of Times Gone By', will feature a collection of historical photos, documents and artefacts from the Clonmany and general Inishowen areas.
Kathleen Graham, Chairperson of the Group, said: "Not only are we building on previous exhibitions presented by our Group, but we are also drawing on the experiences of local people and groups to pull together a project we are confident people will find hugely interesting."
Kathleen went on to encourage local people to become involved in the exhibition, and to get in contact with the Group if they have any items they would like to include in the displays.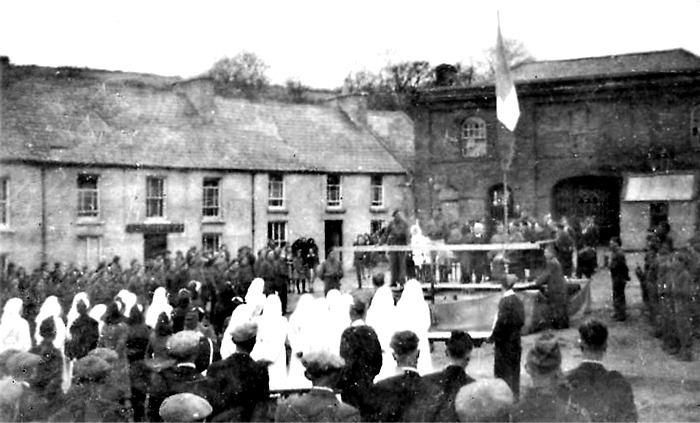 The Market House and Market Square in Clonmany on St. Patrick's Day 1943.
In addition to the exhibition, the Group is very pleased to announce they will once again be hosting a DNA Testing and Family Tree project during the Heritage Week event, with additional experts on hand to advise people on how to research their ancestors.
It is important that the DNA testing is pre-booked and anyone interested in getting their test done should call 086 6092369 as soon as possible.

Visitors to the exhibition will also have the chance to relive the past with two further aspects to the event – an exploration of traditional crafts and a presentation of traditional music and dance.
The exhibition will be looking at traditional crafts such as lace making, crochet, churning and butter making, baking, rope making and spinning. It is planned to have a number of traditional craft demonstrations, such as a working spinning wheel. The Group also hopes to be able to display recipes from long ago and is encouraging anyone with recipes to get in touch. Perhaps some of those long-forgotten foods and treats will enjoy a revival.

Traditional performers will be in attendance at the exhibition and visitors will have a wonderful opportunity to sit, have a break and enjoy the very best of local talent. Laura Ganley is an All Ireland Champion Sean Nós Dancer, performing and teaching Ireland's oldest form of Irish dance for over fifteen years. Laura will be performing on Saturday 19th August at 12:30pm.

Tracey McRory is an All-Ireland Fiddle Champion and also a noted Harp player. She hails from Dunree, Donegal and from a family steeped in the musical traditions of Ireland. Tracey and company will be in attendance on Sunday 20th August from 2pm to 4pm.

Admission is free to the exhibition and with ample parking, an onsite café, toilets and wheelchair access, there will be something for everyone with an interest in history, heritage and genealogy.

For further information please contact clonmanygenealogygroup@gmail.com .