Carndonagh heritage exhibition needs your help
06.07.23
THE Colgan Heritage Committee will be hosting an exhibition titled 'Carndonagh: Objects That Tell the Story' in the Colgan Hall on Saturday 12th and Sunday 13th August, as part of National Heritage Week 2023.

A number of objects have already been collected but the Committee is asking for the public's help in gathering more items for the exhibition. Carndonagh has a long history and Colgan Heritage is convinced there is a treasure trove of items and artefacts reflecting that history in homes and businesses around the parish.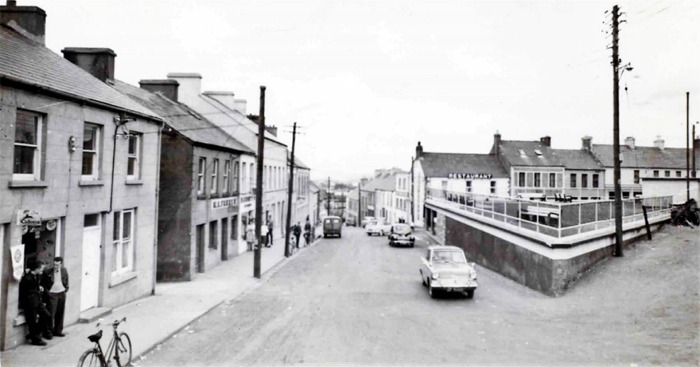 The Diamond, Carndonagh in the 1960s
Helen Robins, Chairperson of Colgan Heritage, said: "There are so many aspects to Carndonagh's history, including as a market town and as a centre of business and commerce. It was also a centre for shirt making, there was the Alcohol Factory, the railway and buses, schools and colleges, police and military, the workhouse, the hospital and clinics, shops and public houses, fairs and agricultural shows, musicals, plays, cinema and shows in the Colgan Hall, Carndonagh Feis, the post office, banks, dancehalls and bands, farming, sporting history, toys and games and the various churches. The list is almost endless. And we cannot forget the important 'home industries' such as butter making, lace making, knitting and baking. If anyone has objects relating to any aspect of Carndonagh's history, be that within the home or outside it, we'd love to hear from you."

The exhibition in August will feature a number of added attractions including the official launch of 'Everything to Help the Lame Dog Over the Ditch', a collection of old words and phrases used in the Inishowen area, a guided 'Walk & Talk' by historian Dessie McCallion and a presentation on old maps of the Carndonagh area. Admission is free to all events and Colgan Heritage would like to invite everyone to come along and enjoy looking back over some of the town's rich history.

If you have any items you'd like to include in the exhibition, please get in touch with the Colgan Heritage Committee by email at heritagecolgan@gmail.com or call 074 93 29377.