Calling all ambitious female entrepreneurs in Inishowen
14.11.23
GOING for Growth is now accepting applications and the deadline to apply is this Friday, 17th November 2023. The programme helps ambitious female entrepreneurs to achieve their growth ambitions – helping to build stronger companies, create new jobs and increase revenues.
Past participants are encouraging female entrepreneurs in Inishowen who are determined to grow their businesses to apply for the award-winning business development programme.

Up to sixty places will be available and applications are sought from female entrepreneurs across all sectors who are strongly focused on growth. There is no charge for those selected and the six month initiative will begin in January 2024.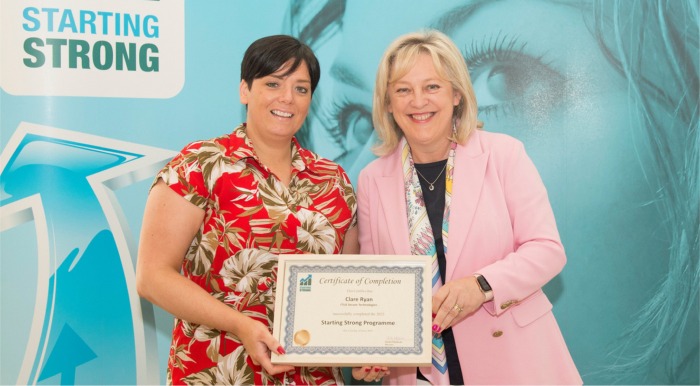 Clare Ryan receiving her Certificate of Completion from Susan Spence at the Starting Strong event in Dublin on 21st June 2022.
Clare Ryan is the co-founder and CEO of ITUS Secure Technologies in Letterkenny, a cybersecurity company that truly aims to simplify cybersecurity management for SMEs. Clare took part in Starting Strong, which is part of Going for Growth but for earlier stage businesses.
Clare says: "Applying for the Starting Strong programme was one of the best decisions I have made to date. There is a real sense of community among the participants and it's the power of your network that keeps you going."

For more details visit www.GoingforGrowth.com .