'Fractured' exhibition opens at Artlink Fort Dunree
12.05.23
A thought-provoking new solo exhibition exploring the world of patterns by Donegal-based visual artist Leanne McLaughlin has opened in the Saldanha Gallery, Artlink Fort Dunree and will be showcased up until the 4th June 2023.

Entitled 'Fractured', the new exhibition challenges us to contemplate the ways in which patterns govern our daily lives, from our morning rituals to the way we cope with seismic changes. Leanne invites us to reflect on the resilience of human nature in the face of change (such as the Covid pandemic) and how we adapt and alter our patterns over time.
Leanne, originally from Derry, has been living in the Donegal Gaelteacht for over twenty years. She graduated with a degree in Fine & Applied Art from Ulster University in 2012 and has since worked on numerous national and international projects, ranging from fine art exhibitions and public sculptures to community arts, outreach and engagement programmes.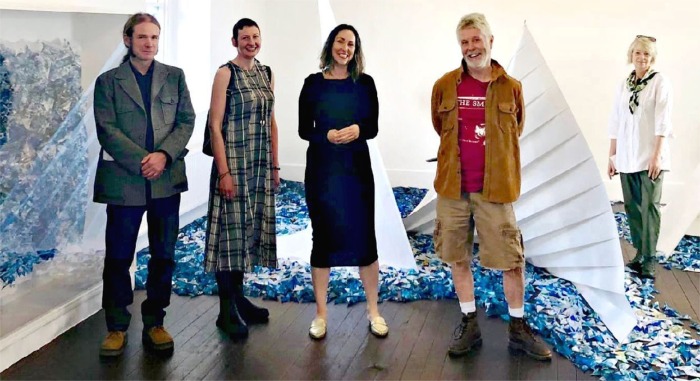 Leanne (centre) with visitors enjoying her new solo exhibition, 'Fractured'.
Speaking at the open event for her new solo exhibition, Leanne said: "I titled the show 'Fractured' as I am examining how physical patterns change over time and space and how even in a disruptive or fractured state, patterns remain. The installation features a series of new artworks, including moving images, intricate geometric designs, a soundscape and abstract sculptural pieces. These works demonstrate the various emotions and experiences that patterns can evoke, from the calming repetition of a soothing motif to the frenetic energy of a chaotic pattern.
I hope, 'Fractured' encourages the viewer to reflect on the interplay of patterns in their own lives and how fundamental they are to life."

The exhibition runs up until the 4th June with free admission daily from 10:30am - 4:30pm. For further information visit www.artlink.ie .