ECO Inishowen celebration in Carndonagh
23.08.23
SITUATED at the very tip of the Wild Atlantic Way, thousands of visitors flock to Inishowen every year to savour its rich heritage and culture, spectacular mountains, beaches and rivers. Protection of the peninsula's rich and diverse natural environment continues to be a number one priority for residents, businesses and visitors alike.

During Carndonagh's annual Heritage Week, protection of Inishowen's natural environment was front and centre at the ECO Inishowen event in the Colgan Hall. Local heroes, working within the community to improve biodiversity, create more sustainable practices and generally doing their utmost to protect our environment, were celebrated.

The event was hosted by Inishowen Development Partnership as part of earlier work initiated under Envision Inishowen, in collaboration with the ECO Carn Network members and various groups across the peninsula. Beyond celebrating the local people, the event emphasised the significance of the natural heritage and featured discussions aimed at raising awareness about the abundant and varied natural heritage present in Inishowen.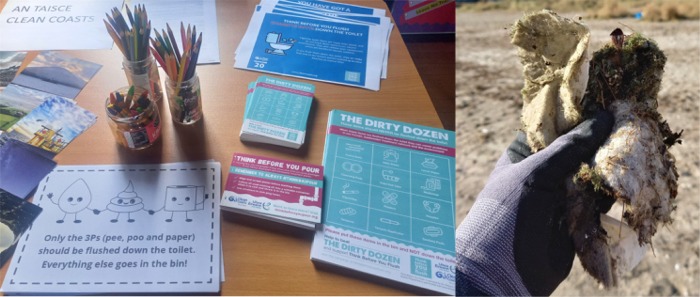 Joining in the celebrations was the 'Think Before You Flush' team, who collaborated with local communities to preserve and protect this beautiful peninsula.
The 'Think Before You Flush' campaign, operated by Clean Coasts in partnership with Uisce Éireann, emphasises the importance of appropriate flushing behaviour and disposal of items including wipes and other sanitary products in the bin. Only the 3 Ps, pee, poo and paper should be flushed down the toilet.