Donegal is one of the best regions in the world to visit
02.11.23
RENOWNED travel guide Lonely Planet has ranked Donegal as one of the best regions in the world to visit. Boasting Ireland's longest coastline, over 100 beaches, and Europe's highest sea cliffs, Donegal is a hidden gem that offers a unique travel experience for local and international tourists alike.

Lonely Planet commended Donegal for its solitude, wild landscapes, friendly atmosphere and pristine coastal hiking trails along the Wild Atlantic Way. The esteemed travel guide also highlights the county's ancient forts, vibrant musical traditions, and rich heritage of the Irish language, providing an immersive experience for inquisitive travellers.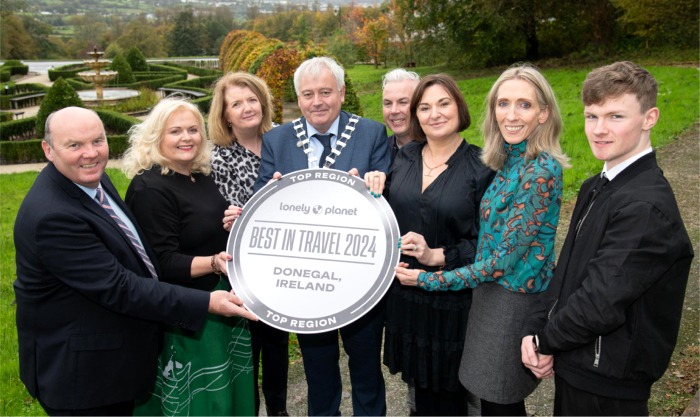 Donegal Top Region, Lonely Planet 2024. Garry Martin, Director of Economic Development, Emergency Services and Information Systems (Donegal County Council), Mary Daly (Donegal Tourism), Margaret Sweeney (Donegal Tourism), Cathaoirleach Cllr Martin Harley (Donegal County Council), Shane Smyth, (Discover Bundoran), Sarah Nolan, a/Head of Tourism (Donegal County Council), Marion Callaghan (Donegal Tourism) and James Cassidy (Donegal Tourism). Photo Clive Wasson.
Cathaoirleach of Donegal County Council, Cllr Martin Harley, is delighted about the Lonely Planet ranking, saying: "Being ranked by Lonely Planet as one of the best regions in the world to visit is a significant milestone for Donegal. It's the second time in five years we've received recognition from Lonely Planet which named Donegal as the coolest place on the planet in 2017. This again speaks to the rich cultural heritage, breathtaking landscapes, and warm hospitality that our county offers."