Earning dollars is a walk in the park
31.05.23
THE 'Civic Dollars' project is a community reward platform designed to increase time spent outdoors at local recreational spaces. You can earn dollars whilst having a walk in Swan Park, Buncrana.

Through this community currency app, Donegal County Council aims to provide people with an incentive and support to improve their mental health, increase their physical activity levels and encourage engagement with local community groups.

Participants download the Civic Dollars mobile phone app (on Google Play or the App Store) and earn online credits by spending time at one of the following five outdoor resources in Donegal:

• Swan Park, Buncrana
• Bundoran Promenade and Cliff Walk
• Dungloe River Walk
• Bernard McGlinchey Town Park, Letterkenny
• Drumboe Woods, Stranorlar

You can then redeem your 'Civic Dollars' in exchange for local and countywide rewards provided by the local business community. For example, a discounted coffee or discounted entry into a local attraction or even donate them to a local community group who can exchange them for rewards.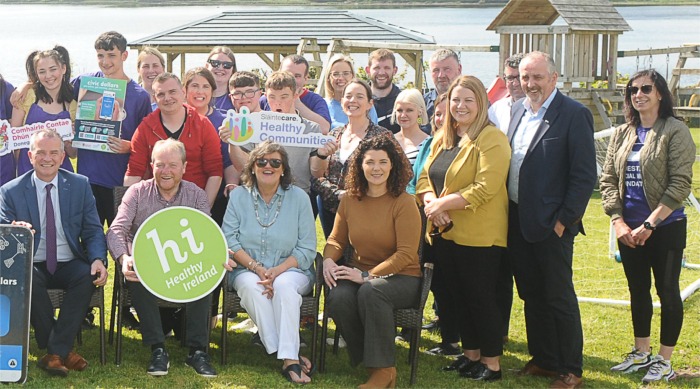 Cllr. Niamh Kennedy, Chair of Donegal LCDC pictured launching the Civic Dollars Project with Cllr. Tom Conaghan; Cllr. Noel Jordan; Liam Ward, Director of Community Development and Planning Services; Stephen McPeake, CEO Civic Dollars; Wendy McCarry, Manager of the Bluestack Special Needs Foundation; trustees and members of Bluestack Special Needs Foundation; members of Donegal LCDC, representatives from participating Community Groups, Donegal Sports Partnership and Donegal County Council staff.
At the launch held in the Bluestack Special Needs Foundation centre, Director of Community Development and Planning Services, Liam Ward said: "Donegal County Council recognises the importance of outdoor recreation in improving the health and well-being of the people of Donegal and in building stronger, more cohesive, and inclusive communities across our county."

For further information about the Civic Dollars project and details of participating community groups and businesses visit www.donegalcoco.ie .