'StrongWomen Science' in Inishowen
30.08.23
ARTLINK are proudly supporting the Inishowen leg of the 'StrongWomen Science' tour. This thrilling 'circus science show' will take place on Sunday 3rd September in Malin Head Community Centre at 1pm and in Clonmany Community Centre at 5pm. The event promises entertainment and education for children and families alike.

The show features two exceptional women, Aoife Raleigh and Maria Corcoran, who have seamlessly blended their scientific prowess with circus performances. It promises to be a memorable experience that sparks curiosity and wonder.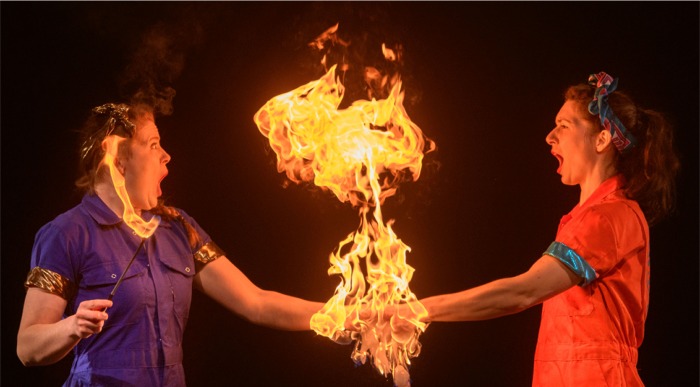 The StrongWomen Science' circus show which will take place on Sunday 3rd September in Malin Head Community Centre at 1pm and Clonmany Community Centre at 5pm.
Aoife Raleigh, an engineer by profession, and Maria Corcoran, an environmental scientist, have embarked on an inspiring journey, transforming themselves into circus performers and unravelling the mysteries behind awe-inspiring acts. Witness their astonishing feats and learn the science behind seemingly impossible tricks, such as balancing a chair on your chin, juggling liquids and eating fire.
In an engaging, fast-paced family circus performance, audiences will be treated to a dynamic showcase of juggling, acrobatics and hula hoop artistry, all interwoven with scientific explanations. 'StrongWomen Science' aims not only to share scientific facts but also to ignite a passion for inquiry and creativity. The show welcomes all, with a particular emphasis on encouraging girls and young women to explore the captivating world of science.

Dea Birkett, founder of Circus250 and visionary behind 'StrongWomen Science' said: "All sorts of people come along to our show and are surprised that science can be so much fun!
"By combining the wonder of circus performances with the accessibility of scientific principles, our show also highlights the value of learning from failures and the power of teamwork – values shared by both science and circus.
"We're on a mission to bring the magic of circus to new places and introduce the world of science to those who may have never considered it before.
"Indeed, the impact of 'StrongWomen Science' extends beyond entertainment; it aims to inspire young minds, especially girls, to see a future in fields like engineering that might not have been on their radar previously.
"Importantly, if one girl or young woman goes away from our show and puts 'engineer' as an option on her career choices that she didn't have before, that's a success!"

Artlink Project Co-ordinator Martha McCulloch added: "We're delighted to be supporting Circus250 and the Inishowen leg of their entertaining and enlightening shows.
"This is guaranteed to be a most enjoyable and engaging event for the whole family and is a brilliant way to enthuse children about science".

StrongWomen Science is on Sunday 3rd September 2023.
• The first show starts at 1pm in Malin Head Community Centre
To buy a ticket visit: www.eventbrite.ie

• The second show begins at 5pm in Clonmany Community Centre
To buy a ticket visit: www.eventbrite.ie

Tickets are €5 for an individual or €15 for a family. For further information visit www.circus250.com .