Join a day of free activities at Fort Dunree
09.11.23
ARTLINK's new 'Sea Change' project, a pioneering initiative aimed at exploring the coastal identity of Ireland through creative collaboration, is set to host a day of free public activities at Fort Dunree on Sunday, 12th November 2023.

The new project, which brings together artists from Donegal and the Causeway Coast & Glens, is a groundbreaking long-term endeavour that envisions an ambitious series of events spanning three venues on the island of Ireland; Artlink Fort Dunree, Roe Valley Arts & Cultural Centre and an additional venue yet to be disclosed. The project has united six talented artists, chosen for their work's relation to the sea, the coast, or maritime heritage.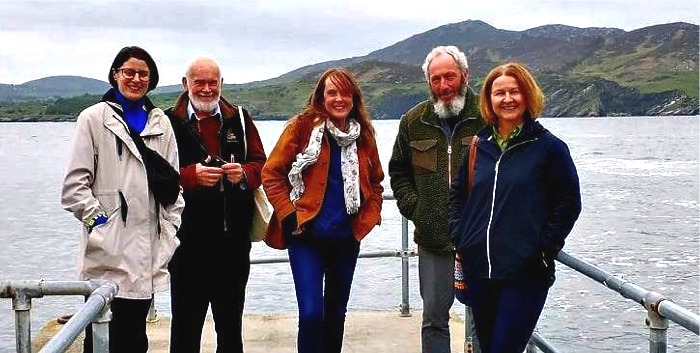 'Sea Change' project participating artists at a recent meeting in Fort Dunree. From left to right Cliodhna Timoney, Tim Stampton, Andrea Spencer, Cathal McGinley and Bernie McGill.
The showcase will be open to the public from 8th-15th November with a day of free public participation on Sunday 12th from 10:30am to 4pm.
Writer Bernie McGill will lead a creative writing workshop starting at 10:30am. It is essential to book a place on this as it may entail leaving the venue. Other workshops include a hot glass demonstration by Andrea Spencer, a drawing 'Meitheal' with Cathal McGinley, sound recording with Cliodhna Timoney, an artist talk by painter Nicola Nemec and stories from the sea by Tim Stampton.

For further information about the new 'Sea Change' project visit www.Artlink.ie .