Appeal for child abuse helpline
22.06.23
AN Inishowen businesswoman is appealing for people in the county to back a campaign for the national child sexual abuse helpline. The CARI (Children at Risk Ireland) helpline costs €85,000 a year to run but gets no state funding, says Trish Hegarty, from Shrove.

"The helpline appeal is asking for 85 people or businesses to raise €1,000 each to keep this essential service open. I've signed up, but they really need three people from each county to sign up too in order to reach their target. So, I'm appealing for just two more people or businesses in Donegal to back this campaign.

"There is a tendency to think of child sexual abuse as something in the past, but it happens all the time in Ireland today and children and their families need support."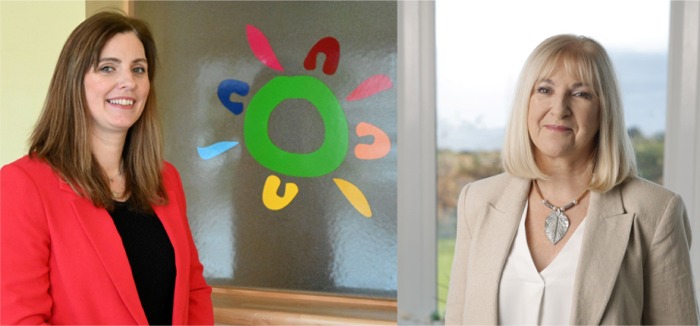 Pictured L-R, Emer O'Neill, CARI chief executive and Trish Hegarty, Inis Communications
CARI is the leading Irish charity providing child-centred therapy and support services for children, adolescents and families affected by child sexual abuse. CARI chief executive and clinical officer, Emer O'Neill says the helpline is the first point of contact for those with concerns about child sexual abuse.

"Parents struggle to cope when faced with the unimaginable horror that their child is being sexually abused. They often fear to talk about it without breaching their child's privacy. Our helpline gives them essential support but needs your help to survive and expand."

The CARI helpline appeal is backed by Irish rugby player, Eimear Considine and leading entrepreneur, former Tipp hurler and child sexual abuse survivor, Tony Delaney. Mr Delaney spoke openly about his experiences on the RTE Late Late Show recently.

Trish Hegarty's company, Inis Communications, is working with CARI on the helpline appeal campaign. But Trish says she "wanted to sign up personally to support it too.
"It's been shocking to learn about the calls the helpline receives but also a wake-up call that child sexual abuse is not just an historic issue."

The CARI helpline is open Monday to Friday from 9am – 5pm on 0818 924567.
To sign up, go to: www.cari.ie .
To support Trish Hegarty's fundraiser go to: www.facebook.com .