Afterlight exhibition opens at Artlink
22.03.23
AN intriguing new solo exhibition exploring the passing of time by Sligo-based visual artist Stephanie McGowan will be showcased in the Saldanha Gallery, Artlink Fort Dunree, from Saturday 25th March up until 23rd April 2023.
Entitled 'Afterlight', the new exhibition encompasses painting, drawing, sculpture and installation, bringing together artworks created by Stephanie who is drawn to the meeting point of polarities including life and death.

Stephanie McGowan gained a distinction in her Fine Arts degree from the Sligo Institute of Technology in 2017 and was selected for the RDS Visual Art Awards. She completed a Masters in Contemporary Art Practice at the University of Edinburgh in 2018, during which time she also took part in a 'Tropical Lab' residency in Singapore.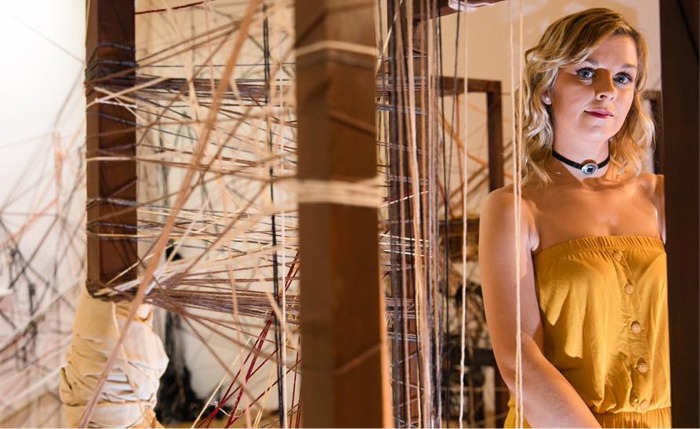 Stephanie McGowan, Visual Art Awards 2017 at RDS. Image By Mark Stedman.
Stephanie says that 'Afterlight' refers to the soft, diffuse light that remains after the sun has set, and can also mean a view of past events. Speaking ahead of her new solo exhibition at Artlink Fort Dunree, she said: "I chose to name my new exhibition 'Afterlight' as it can mean a view of past events. Indeed, all of the works on show begin as photos and memories, so looking back on them and allowing these past moments to emerge in a new way becomes the 'Afterlight'."

Artlink Project Co-ordinator Rebecca Strain said: "McGowan's new body of work forms part of a recent ongoing theme at Artlink, exploring life's rhythms, times when we are quiet and reflective and other times when we are productive and need to share the fruits of our labour.
Stephanie's use of threads and wools in her artwork adds texture and depth, and creates a variety of very interesting and dynamic effects; from delicate and intricate embroidery in her paintings to larger scale installations that dominate a space."

Martha McCulloch, Artlink Project Co-ordinator added: "This exhibition follows on from the work we have been doing with Irish Hospice Foundation, creating spaces where people can feel safe to talk about loss. Visitors to Stephanie's new exhibition will be moved by her use of immersive techniques to create a memorable and thought-provoking experience.
And of course, it is always exciting to see contemporary artists like Stephanie pushing the boundaries of traditional mediums and exploring new ways of engaging with audiences!"

The open event for the 'Afterlight' exhibition takes place at 2pm on Saturday 25th March and runs up until 23rd April 2023 with free admission daily from 10:30am to 4:30pm. For further information visit www.artlink.ie or call 0838696513.