What The 32 means to me
09.08.21
By Linda McGrory

WHEN Paul McVeigh chooses a piece of my writing for an anthology he is compiling, it is like being picked to play for an all-Ireland sports team.

Paul is the captain and he has judged that my piece, that I, am fit for the squad; that I can join his players and help make a success of The 32: An Anthology of Irish Working-Class Voices.

I am selected for the second team – the first comprising established writers like Dermot Bolger, Roddy Doyle, Danielle McLaughlin, Claire Allan, June Caldwell and Kevin Barry.

These are seasoned practitioners who know what the competition looks like and often how it is a mirror-image of themselves.

I take my place on the reserves' bench of sixteen new or emerging writers including Theresa Ryder, Stephen O'Reilly, Trudie Gorman and Abby Oliveira.

When publication day arrives, we will tog out together and show what we can do with the big hitters behind us.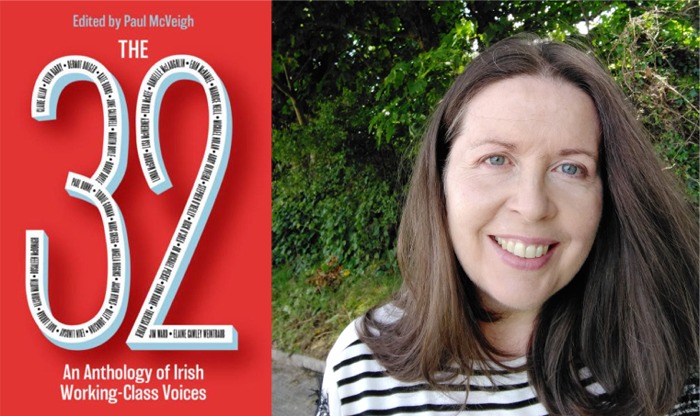 Inishowen journalist and writer Linda McGrory who is delighted to be included in 'The 32: An Anthology of Irish Working-Class Voices'.
Despite the myriad images and voices that inhabit our imaginations, our guts, writing can even be lonely.

The writer is like the singles tennis player, a mostly solo performer without the comfort of the collective.

By March 2020, I have been three months working on my creative writing with an attitude of 'it's now or never'.

For once I have reached the first quarter of the year without giving up.

At this point in my life, the ambition for my work stretches no further than to finish things, to finish something, anything.

To be discovered as a unique literary talent who beguiles an agent, a publisher and then readers, is an ambition that has withered from neglect.

The source of the neglect is hard to pinpoint.

Perhaps it is my Buncrana working-class background that leaves me unable to wholeheartedly embrace any artistic ambition; a subconscious or conscious rush to be middle class; an unwillingness, fear even, of testing whether or not I have literary talent that can be coaxed, cajoled or dragged out of me by the ear.

At 53, it feels like I'm running out of time, as though the resources required to pursue something I always felt uniquely mine, are steadily depleting as the years slide by.

I have written thousands of stories and millions of words in my two-decade career as a news reporter. Creative writing could hardly be more different.

I discover that writing creatively has as much in common with news journalism as it has with, say, architecture.

As disciplines go, the only thing news and fiction share is their mode of delivery – words, sentences, paragraphs.

The same can be said for technical manuals, marketing blurbs, DIY instructions, a priest's homily.

Granted, news is generally communicated in story form but the main ingredients are facts arranged and re-arranged to inform the reader.

Creative writing, on the other hand, operates at the level of perspective, emotion, imagination, feeling.

A news story tells us that a woman is killed in a road accident on the way to a funeral.

A fictional account of the tragedy might explore the woman's relationship to the deceased and what she was thinking and feeling before her car leaves the road and hits a ditch.

In the news article, the ditch will get a passing mention, for example, its location vis-à-vis the road, the car and the conditions.

In the creative story, it may become a character.

With its tall, whispering grasses, the ditch might be indifferent to tragedy, its ordinariness taunting.

Or, it could long since be haunted by its proximity to a known black spot and frequent violent death.

Barely three months into my creative writing journey which includes a short online course, the sheer energy, discipline, self-belief and commitment required astonishes me.

I can say, without doubt, that it is for me the most challenging form of writing.

It is not easy to hold a reader's attention, stir their emotions and keep them reading page after page.

Less so when the average person's attention span continues to shrink in a daily wash of social media and click-bait, an ever-decreasing circle that leaves little left over for reflection.

So, while I'm on a make-or-break bid to write creatively or else reconcile myself to shutting that part of myself for good, my piece is selected by Paul McVeigh for his working-class anthology.

Meanwhile, something big is playing out in the background.

There's the pandemic, of course.

But a more momentous calamity for me is the steady decline of my mother.

She will not live to see my piece published in The 32, even though she is central to my contribution entitled, 'We All Fall Down'.

Thankfully, I do get to tell her that my writing will be published in an important book.

And although it is difficult for her to articulate, she is pleased and proud –proud of me until the day she dies.

Proud of me until January 2, 2021 when she passes away with none of her family by her side.

I look for meaning in dates, numbers, an unusual flight of starlings through the garden.

I search for signs in the late arrival of the swallows, a constellation of wet sea stones on the shore, the knots in a silver leg of driftwood.

I look into my blind cat's lightless eyes; they speak of how brave it is to live and to die.

Writing poetry helps as it has at other traumatic times in my life.

I dream of my mother and in the morning, hung-over from uneasy sleep, apnoea and grief, I write:

The child on a road after rain is my mother;
I hold her warm and soft in the late summer glare.
I see my sister, shake my head;
She will not stay, I tell her.
She will go now to the stars; to the great, big midnight blue.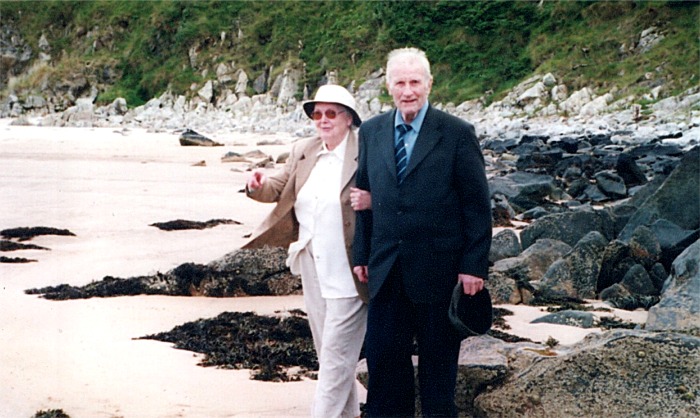 Ethna and James McGrory, the late parents of Buncrana-born writer Linda McGrory, on a day out to the shore.
I watch for each new twist in the The 32's journey to publication by crowd-funding publisher Unbound.

It is a welcome distraction and offers me hope.

I join Twitter with a view to doing my bit to publicise the new book.

I begin to feel like I'm living my life through the social media platform so I leave, but still keep the account open with one eye.

Paul McVeigh's toes would curl if I gush about what being one of The 32 means to me.

It's not as if I have visions of standing on a school desk like the scene in Dead Poet's Society, when Paul inevitably leaves the room and moves on to other projects.

I will simply say thanks and salute the skipper thus:

Ole, Ole, Ole, Ole…