Cancer treatment for Vivienne Lynch McDaid

06.08
.21
A Buncrana woman is in a race against time to get life-saving cancer treatment in the United States.

Vivienne Lynch McDaid is scheduled to begin chemotherapy in Boston next week, however medics cannot start the treatment until the hospital receives a full deposit of $150,000.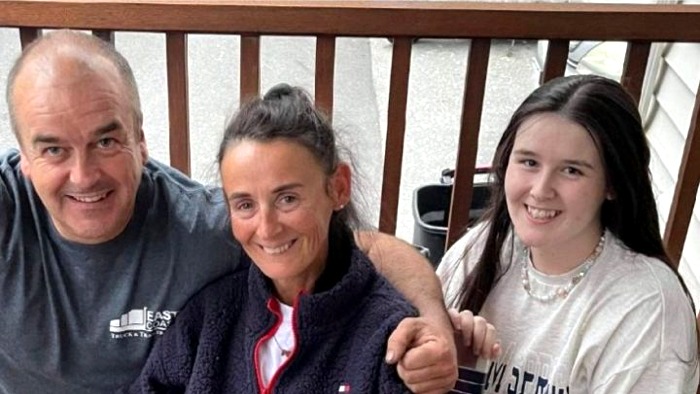 Vivienne, a mother-of-two, wasn't feeling well earlier this summer. After several tests, the Umricam woman received the devastating cancer diagnosis.
The doctor told her there was not much he could do to help her.
This is when Vivienne's family and friends stepped into action.
They knew Boston has the best hospitals but wondered how they could get Vivienne there during a global pandemic with borders effectively closed.
A friend, a cancer survivor himself, had access to elite doctors at Massachusetts General Hospital (MGH) and Dana Farber Cancer Institute. He helped secure a consultation appointment for Vivienne. Another friend, with close ties to Washington DC, was able to expedite a medical visa and this allowed for plane tickets to be booked.
Vivienne arrived in Boston on July 27th and two days later was seen by Dr Bruce Giantonio, a medical oncology specialist at MGH with 34 years' experience in the medical field.
Dr Giantonio examined Vivienne and said the words that every person diagnosed with cancer wants to hear…there is hope. He developed a treatment plan and Vivienne now faces eight cycles of chemotherapy which, her family says, Dr Giantonio is confident about and eager to begin.

However, Vivienne's medical coverage in Ireland does not cover any of these expenses. The estimate received from MGH is for $148,666.30.
This all needs to be paid for out of pocket and up-front. It is the policy of MGH that "full complete estimated payment needs to be obtained prior to receiving first treatment at MGH." "This is understandable but puts Vivienne in a race not only for her health, but also for finances," said Victoria Naughton, who has set up a GoFundMe page to help raise the necessary funds for Vivienne.
It was set up only yesterday but already people have been donating steadily from all over Donegal, Ireland and further afield.
"Please, let's help Vivienne secure these funds so that her chemotherapy treatment can begin and she can beat cancer. Any amount is appreciated. Please donate what you can and please share this fundraiser. I have no doubt that we can raise these funds. The Irish community is a tight-knit, strong and generous group. Those affected by cancer are the same. Let's do this," said Victoria.

To visit the GoFundMe page, click https://gofund.me .