Spraoi appeal for help

18.08.21
SPRAOI agus Sport in Carndonagh have issued an appeal for 100 people to donate just €20 each this week. The award-winning social enterprise is just €2000 short of their target for the JustGiving "Giving Checkout Competition".

Chief Executive Helen Nolan says they have already raised €2,000 but need at least €2,000 more to qualify for the competition. "The first 50 charities to reach at least €4,000 from 50 donors, get an automatic €2,000 from JustGiving," Helen explains.
"That's why this appeal is so urgent, because if we win, it will turn our €4,000 into €6,000. Plus, we will be placed in a draw to win one of three additional €10,000 donations!"

Helen says they raised €1,500 from individual donors so far and then Buncrana Credit Union donated €500 to the fund. "Buncrana Credit Union are a long-time supporter of our work here in Spraoi and we would like to acknowledge and thank them for that support. We are now appealing to the public to please get behind us and help us raise the additional €2,000 that we need as soon as possible."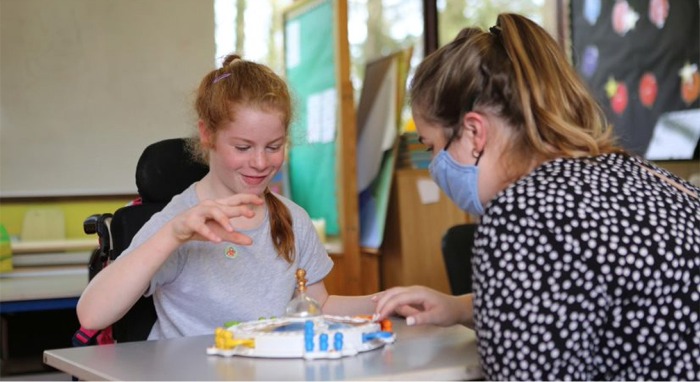 Lucy Kelly enjoying Spraoi agus Spórt's daytime respite activities. Photo by Lorcan Doherty.
The funds raised will be used to provide daytime respite care for children and teenagers with a disability. Helen says €6,000 will help them provide 200 hours of respite to 20 children. "For many families, this respite is a lifeline. It provides individualised support for their child, while giving families some respite during the day."
Helen says Spraoi have been unable to run their usual fundraisers this year due to the pandemic. "So, this is a unique opportunity, in which your donation will be worth an extra 50% more to Spraoi."
Kathleen McDaid, Spraoi Administrator says that donations can also be dropped into the office Monday-Friday between 10am and 6pm. Alternatively, you can donate online here . If you have any difficulty with online donations, please call Kathleen on 086 8420203 or email kathleen@spraoiagussport.ie .