ITUS Secure Technologies

25.05.21
THE area of cyber security is currently headline news nationally and globally. Dr. Clare Ryan is co-founder of one of Donegal's foremost protectors of information technology, ITUS Secure Technologies. Based in the heart of Letterkenny's tech cluster at CoLab, they have established a solid and growing customer base locally, nationally and internationally since inception three years ago. This award winning innovator has exciting plans for the future and Clare talks about why they chose Donegal as their base, the talent pool in the North West and advice for those considering a career in cyber security.

''ITUS was Apollo's protector in Greek mythology and the only mere mortal to ever become a God'' states Clare when explaining the business name. It also provides useful insight into the organisation's mission, which is all about examining the risk of IT systems for SMEs (Small and Medium Enterprises) and putting in place strategies and controls to protect them by reducing the risk of a cyber attack, not unlike the principles applied by their namesake in bygone times.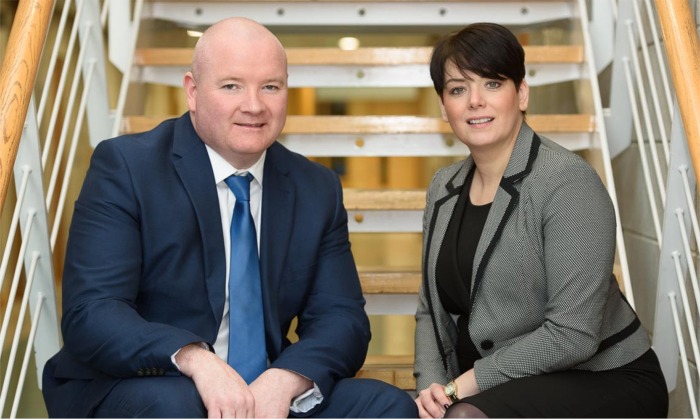 ITUS Founders, Paul Daly and Clare Ryan.
Clare and her co-founder Paul Daly relocated to Donegal in 2008 and have somewhat different professional backgrounds. With a PHD in Science, Clare laughs when she outlines that she ''loves all things GDPR, information management and governance, not something you hear every day!''
While her business partner Paul focused on the tech side of business, having established a strong network within the industry, they founded ITUS in 2018.

''There were a number of reasons for choosing Donegal and specifically Letterkenny as our base. For us it's a great location to service customers nationally, it has excellent connectivity, critical for our work and with LYIT on our doorstep and other third level institutes close-by there is a highly skilled pool of graduates to chose from'' explains Clare.
Support networks have also played a big part in the growth of ITUS as Clare explains ''Since starting out we've had fabulous support from CoLab, LYIT and Enterprise Ireland in terms of accessing funding streams, development opportunities as well as access to international networks and clients. Also the informal supports within the CoLab have been really beneficial. There is a dynamic range of businesses in the Centre all willing to support once another and something of a Team Donegal approach in terms of collaboration''.

A major milestone for ITUS came last year being crowned Zurich's Innovation Champion in Ireland for 2020, testament to their work and business success to date.
Given the rapid pace of the cyber-security sector, it's no surprise that ITUS continues to evolve and pivot its offering to support customers.
''When we originally set-up we were primarily focused on professional service organisations and while still an important base, we realised that they cyber impact is reaching further and wider, oddly sole traders appear to be impacted quite a lot by cyber incidents, so this market is an increasingly big focus for us'' says Clare.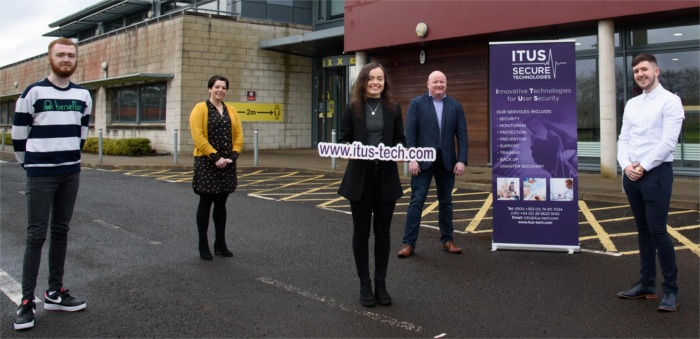 The ITUS team outside their CoLab headquarters.
So what next for ITUS, Clare explains that there is still much work to do around education piece for SMEs, to highlight the potential impact that cyber security can have for their business and the knock on effect for customers. ''We're also looking to develop bespoke software for the insurance industry which will pave the way for future business growth and market expansion''.
The organisation has representatives working in Poland and the US and in the next couple of years they plans to significantly grow their workforce in their Letterkenny Headquarters and beyond, drawing in from local talent in LYIT, Ulster University and North West Regional College in Derry.

Clare has also some words of wisdom for those seeking out a career in cyber security: ''Get some work experience as soon as you can to get a feel for the industry and what area you want to focus on. There are some phenomenal courses in LYIT that can then set you on your career path. ITUS and many other employers in the region are benefiting for the talent graduating in the region''