First 5 Little Library

04.06.21
THE roll out of the 'First 5 Little Library' initiative is happening across Donegal. It aims to support the development of little libraries in early learning and care settings and encourage a love of books and reading among our youngest children.
All early learning and care centres and TUSLA registered child-minders in Donegal will be given free book bags and resources such as social story cards, an early years literacy booklet and information on library services and membership.
There's an opportunity for each early learning and care centre and child minder to sign up for library membership when collecting their 'First 5 Little Library'. The aim is to encourage ongoing collaboration between the early learning and care services and libraries and support families in establishing or developing the practice of reading.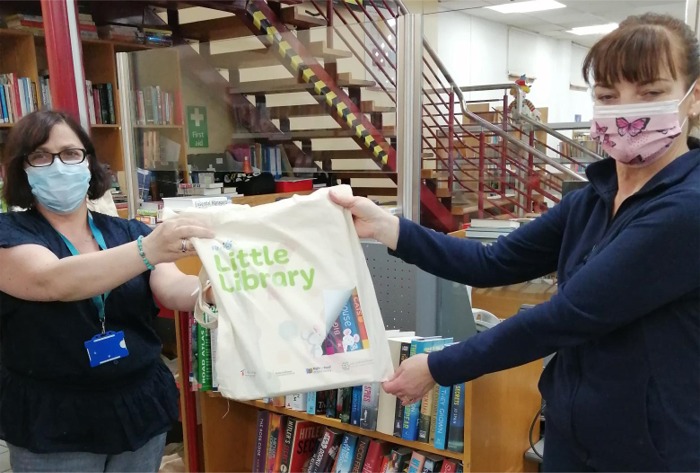 Kim from the Central Library (left) handing over a Little Library bag to Rosie Piper from House of Fun montessori preschool.
Welcoming the initiative, Maureen Kerr, Senior Executive Librarian said: "Donegal County Library Service is proud to roll out the First 5 Little Library to early learning and care providers in Donegal. Reading from an early age encourages the development of concentration, logic and speech."
Maureen continued: "The library is a fantastic resource to everyone both personally and professionally, particularly education providers. Membership of your local library is absolutely free, offers a great selection of books and much more. First 5 Little Library book bags will also be made available to families for loan from their local library so that parents and guardians can explore the resources with their little ones at home."

For more information visit Donegal County Library Service at www.donegallibrary.ie , on Facebook at @DonegalCountyLibrary or on Twitter at @Donegallibrary.