Bus Éireann updates travel advice
10.05.21
BUS Éireann and Expressway issue updated travel advice as capacity doubles to 50% and inter-county travel returns today, Monday, 10th of May.
Ireland's national bus company is advising customers to travel outside of peak times, to book a guaranteed seat for inter-regional Expressway travel and to be prepared for greater demand on some services, especially during periods of fine weather, at weekends and morning/evening commute times.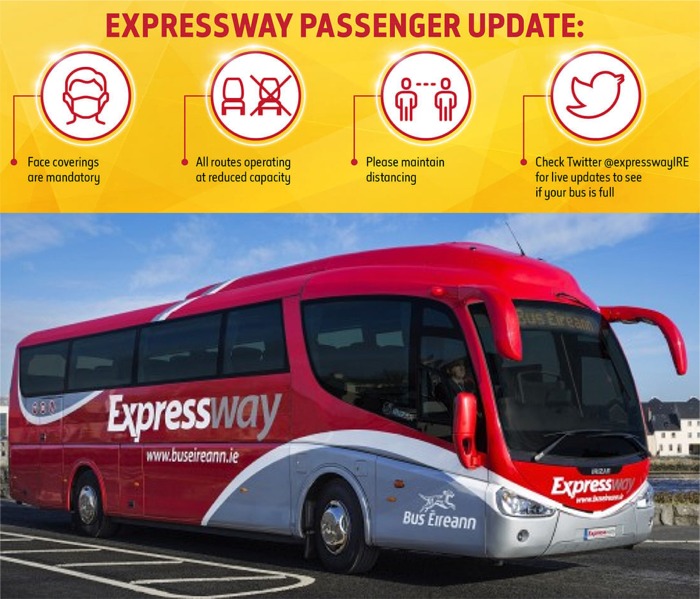 Allen Parker, Chief Customer Officer, Bus Éireann said: "It is very welcome that public transport will now be operating at a capacity of 50% and we look forward to playing our part in the safe reopening of society. For Bus Éireann that means carrying between 20 and 30 passengers on board, depending on vehicle size," said Allen Parker, Chief Customer Officer, Bus Éireann.
"As restrictions begin to ease across the country we anticipate there may be capacity pressures on certain routes at certain times of the day. Therefore we are encouraging our customers to ensure their journeys are carefully planned, to pre-book a guaranteed Expressway seats online and to travel off-peak – that is, after 9am and avoiding 4pm - 6pm where possible. Fine weather increases demand especially for routes to the coast, and people should keep this in mind too."

Bus Éireann has introduced new services and schedules, so if you haven't travelled for some time, check www.buseireann.ie to plan your trip.
Be sure to book your outbound and return journeys on www.expressway.ie so as to guarantee your seat – this is a new facility not previously available.
The 50% capacity limit relates to seated and standing passengers. Passengers are asked not to sit in the marked-off aisle seats and to leave two rows behind the driver vacant. The 50% capacity limit is clearly marked on board.
The law requires people to wear face masks throughout their journey. Drivers wear a face mask while passengers are boarding and alighting. Face masks are available at vending machines in stations. Hand sanitising units are available on board and in stations.