Captain Jack of the 'Wild West'
13.10.21
MOST people will have heard of icons of the American west such as Buffalo Bill, Wild Bill Hickok, General Custer, Sitting Bull and Calamity Jane; men and women who were possessed of a sense of adventure and who lived in dangerous and exciting times.
But how many know the amazing story of their friend and contemporary, Captain Jack Crawford? A man born and reared in Carndonagh who helped shape much of what we know today as the 'Wild West'.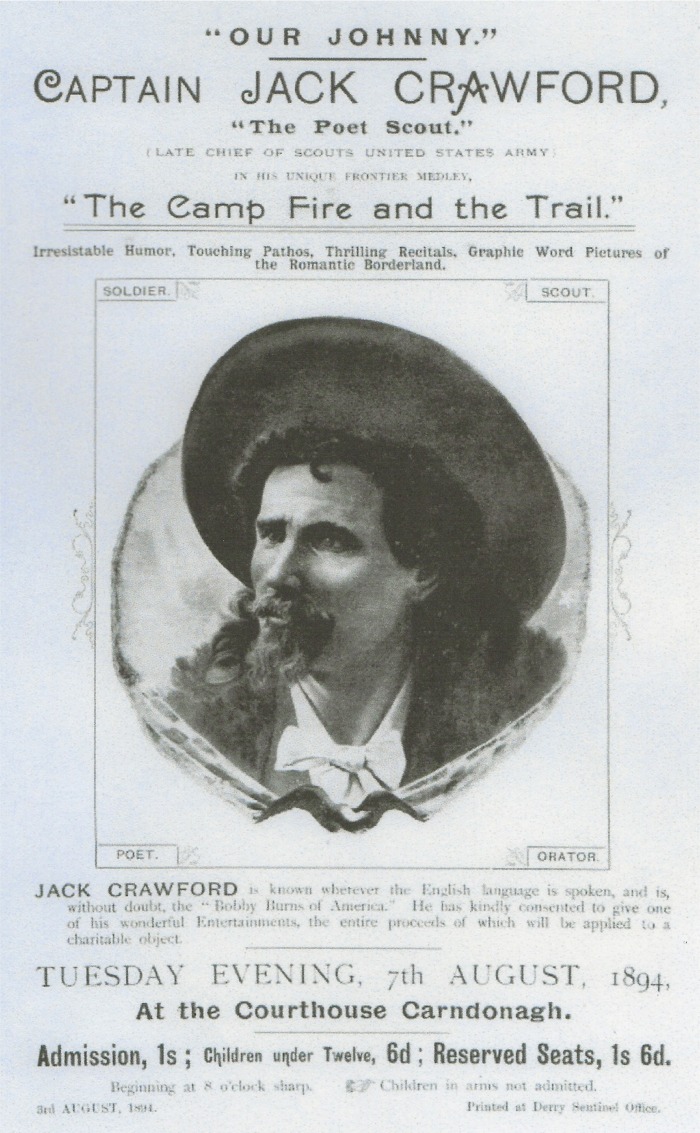 Captain Jack Crawford poster advertising an evening in the Courthouse, Carndonagh.
Captain Jack (known as "The Poet Scout"), was a master storyteller about the Wild West and was one of the most popular performers of the late nineteenth century. Local media company Crana Communications has produced a radio documentary telling the amazing story of a penniless and illiterate teenager who fled famine and poverty in Ireland to achieve fame, fortune, and adventure in the US.

Jack Wallace Crawford was born in Carndonagh in 1845 at the height of the devastating Irish Famine. He survived this, just like he did many other dangerous situations throughout his life. He was descended from Braveheart William Wallace so maybe danger and adventure were in his genes!
Like many Irish men and women, Jack sought a better life and prospects than Donegal could offer so he boarded a ship to the US. Jack was barely fifteen years old. But this was only the start of his adventures, according to Jim Doherty of Crana Communications: "Jack arrives in the States just as the Civil War begins. He lies about his age to join up on the Union side and is wounded 3 different times. Ironically, the last time proves to be the best thing that could ever happen to him. While he's recovering, a nun teaches him to read and write. He discovers he has a talent for writing, and this sets him on a totally different path in life."

Jack goes on to become a Chief Scout with the US Cavalry, narrowly missing out on being killed at the Little Big Horn alongside his friend General Custer. "His is an amazing story. He seemed to know and meet everyone we know about from the 'Wild West', including Billy the Kid, Buffalo and Wild Bill Hickok. He even became an extremely popular stage performer and even brought his 'Frontier Show' to Carndonagh and Derry to wild acclaim. He was a megastar from here, a celebrity when the word actually meant something," Jim said.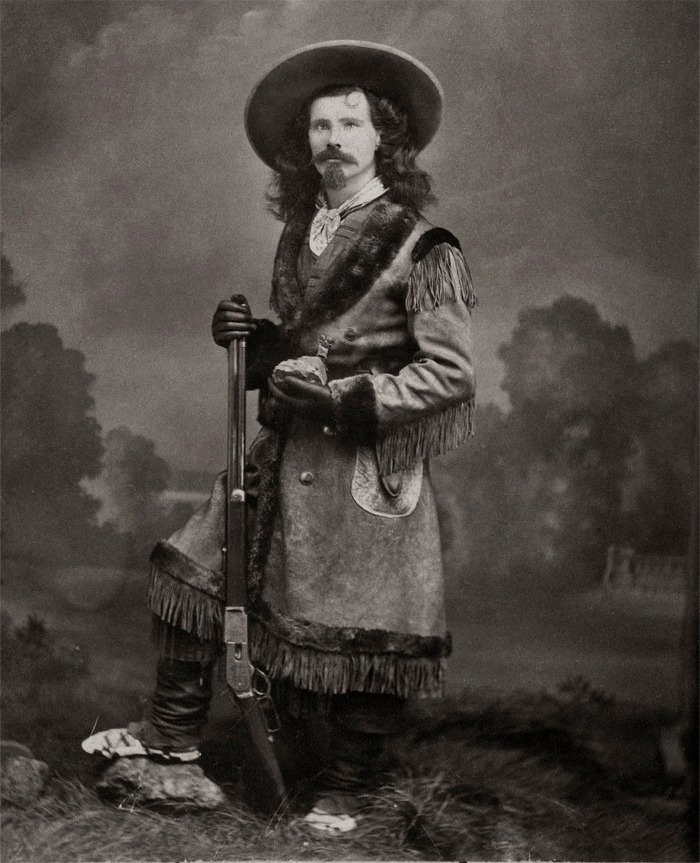 Captain Jack Crawford in full frontier garb in 1881.
Local historians Sean Beattie and Marian Harkin were major contributors to the documentary, having done considerable research on his story. Two other contributors who feature prominently in the programme are Maud Hamill and Alister McReynolds. Maud is secretary and researcher at the Ulster History Circle, which erected a Blue Plaque at Captain Jacks former home in Carndonagh in 2016. Alister McReynolds is a writer and broadcaster on topics related to Ulster Scots history and heritage and is currently writing a book about Captain Jack's poems and other writings.

The documentary, 'Captain Jack Crawford: The Poet Scout', will air on Newstalk at 7am Sunday, October 17th and will be repeated on Saturday 23rd October at 9pm. The programme will then be available as a podcast on the Newstalk website.