Bikes for Africa appeal

05.10

.21
LETTERKENNY Rotary Club was delighted to announce the opening of their annual School Bikes Africa Appeal in conjunction with Donegal County Council and Bryson Recycling. The annual appeal is being launched this October to coincide with the National Reuse month.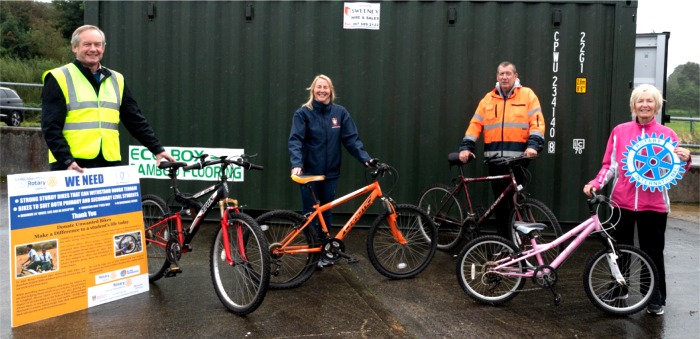 Ed Wickes, President of Letterkenny Rotary Club, Suzanne Bogan, Waste Awareness Officer, Donegal County Council, Connie Gallagher, Manager Bryson Recycling and Hazel Russell, Letterkenny Rotary Club.
As in previous years, bicycles suitable for refurbishing should be strong and sturdy, mountain bike style, have minimum 24" wheel size and mountain bike type tyres. Racer style bikes are not sought as part of this collection. Suitable bikes can be dropped off at the council's recycling centre in Carndonagh.

Donated bicycles will be transported by the Irish Army to Loughan House, Co Cavan, one of the Irish open prison centres, where the prisoners there will refurbish them prior to being shipped off to The Gambia. To date, approximately 5000 bikes have been transported to Africa.

Many children in Africa have to travel long distances to and from school, often in searing hot temperatures and doing this on foot can be extremely difficult. Access to a bike can have a huge positive impact on the life of pupils, their families and the local community.

For information on the opening times for the Carndonagh recycling centre visit www.donegalcoco.ie or www.brysonrecycling.org .