Donegal hosts World Indoor Tug of War Championships

13.02.20
THE World Indoor Tug of War Championships will be held over four days next week from Thursday 20th to Sunday 23rd February at the Aura Leisure Centre in Letterkenny.
Danny McGonigle from Clonmany and the committee responsible for running the event have been busy with final preparations.
Danny explained, ďWe are hoping that everything will go well and that big crowds will turn out to support the event. We have an amazing team of people working very hard, from the set-up of the hall and all the facilities required to preparing and erecting signs and promotion of the event. This has been a lifelong dream of mine and we are very excited as it draws nearer".
The head office for the championship is at the Mount Errigal Hotel where the weigh-in, the opening ceremony and the closing ceremony will take place.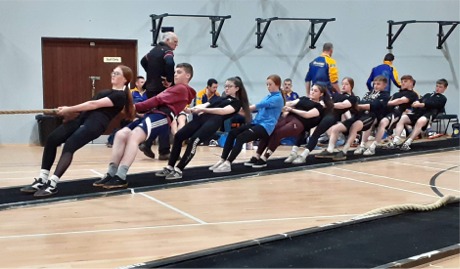 Clonmany Tug of War youth team being coached by Danny McGonigle at the recent national championships.
Up to 1000 athletes are due to attend with teams from Taiwan, China, Russia, Ukraine and from all over Europe and the UK registered for the championship. The visitors will stay at the Mount Errigal Hotel and in accommodation all over the town providing a great economic boost for the town .
The weigh-in will take place on the Wednesday allowing the competitors time to recover before they take to the mat over the weekend. The open club competitions will take place on the Thursday and Friday while the international championship will be on Saturday and Sunday.
The action will begin at 9.30am each morning and will continue until around 6pm. The local Clonmany B team will represent Ireland at 560kg on Saturday afternoon and at 600kg on Sunday afternoon.
Mountain View from Co. Louth will represent Ireland in the other two menís senior categories, 640kg and 680kg. There will also be women, youth and mixed competitions and Clonmany will field an underage team who were prepared by Danny himself. There is a little piece of history in the Clonmany B team with two sets of father and son participating - Ryan & John Greene and Ryan & Daniel Doherty.
The town council are hosting a civic reception for the VIPís from the Tug of War International Federation (TWIF) on the Thursday night in the council offices.
There promises to be a good eveningís entertainment at the Mount Errigal Hotel on Friday night where the opening ceremony will take place. Myles Gallagher will MC with VIPís lined up to attend, it will begin at 9pm and everyone is welcome.
Why not come along to support the championships and cheer on the Irish teams over the four days. Further information is available at www.irishtugofwar.com .