Spraoi agus Spórt celebrates 10 year anniversary
06.10.20
SPRAOI agus Spórt in Inishowen celebrates its' 10 year anniversary in 2020. Established during a challenging economic landscape in 2010, resilience has been a founding principle and one of the many reasons it has become the heartbeat of the community in Carndonagh. We speak to CEO & Co-founder Helen Nolan and Manager Eimear McLaughlin to learn more about the many initiatives currently in progress, how it all began and future plans.
''The advice I have to people thinking of moving to Carndonagh and Donegal is to go ahead and do it. The work life balance, activities for children, cost of living and quality of life is amazing. We have the physical infrastructure and huge social and support networks to help with the transition'' said Helen. Having made the move back herself from Dublin 13 years ago with a young family, Helen is well placed to provide such guidance.
Spraoi agus Spórt started out initially to provide a permanent home for the Carndonagh Parent and Toddler group and their motto then, which remains, was to ''respond to the needs of the community''.
Today, as well as providing crucial services to youth and families and winning multiple awards, Spraoi agus Spórt has become an important social and enterprise hub within the community. They have regenerated six vacant buildings in Carndonagh with two more to come and have created much needed employment locally.
Spraoi agus Spórt has created Fadó, a charity shop; FabLab Inishowen, a digital fabrication laboratory and through partnership with other organisations they developed a co-working hub for remote workers and business start-ups in the region.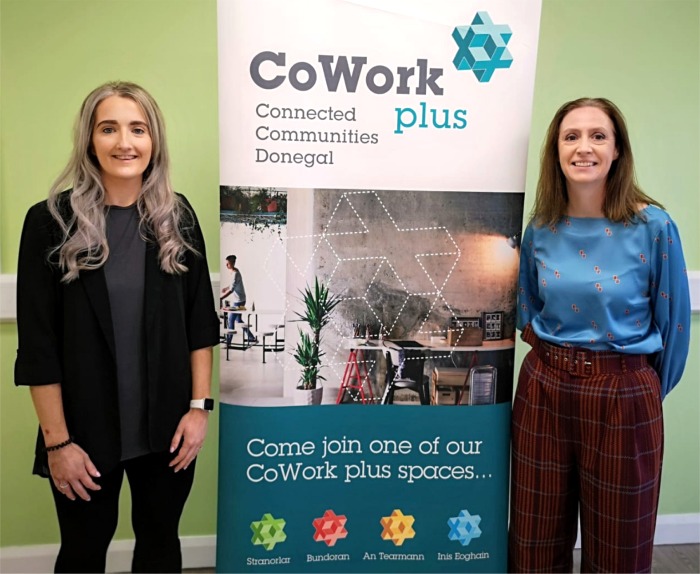 Pictured left to right, Eimear McLaughlin and Helen Nolan of Spraoi agus Spórt.
Earlier this year as the pandemic took root in Ireland, Spraoi agus Spórt recognising the needs of the community, rolled out Project Cineál (Kindness) to help people in need across several areas. As well as providing a helpline, foodbank and online classes, through FabLab Inishowen visors were produced for frontline workers in supermarkets, nursing homes and businesses returning to work across Donegal. This initiative received national coverage through RTE's Ireland on Call programme. Helen stated that the enterprise ''from the beginning has been innovative. We recognised a very real need for PPE within the community and through our collaboration with the Nerve Centre in Derry and our staff's dedication and talent, we were able to turn the project around quickly and successfully.''
At a recent Public Consultation event focusing on Carndonagh Regeneration, there was strong interest in co-working spaces among attendees.'' says Manager Eimear McLaughlin.
Like most aspects of life, Covid-19 has made Spraoi agus Spórt focus on how it will operate in the future. ''Developing an online presence for our charity shop Fadó, the continuation of Inishowen Food Bank and ongoing online delivery of classes are areas for us to focus on now that may not have been a priority at the start of the year'' stated Eimear. Additionally CEO and Co-Founder Helen stated ''at our core we are about connecting people and changing lives, so we are also looking at how we can extend our reach and positively impact more communities''. Considering what has been achieved in the past 10 years this is certainly exciting news for the current and future service users of Spraoi agus Spórt.