Donation helps 'brighten days' for Inishowen children

05.05.20
Spraoi agus Spórt in Carndonagh has welcomed a €500 donation from AIB to help it facilitate a unique series of fun online Zoom activities aimed at supporting children and young people with disabilities during the Covid-19 restrictions.
Co-founder and CEO of Spraoi agus Spórt, Helen Nolan said: "We are delighted to receive this generous donation from AIB which is helping us to provide a wonderful new service that will benefit approximately fifty families in Inishowen.
"Indeed, this donation is helping us to create a unique series of fun and creative online Zoom activities for children and teenagers with a disability and/or autism which is brightening up their days and is helping parents and carers to cope with the lockdown.
"Covid-19 has been an overwhelming challenge for families of children with disabilities – not least because of the absence of a daily routine, missing friends and family members, or the support that they would normally have access to from healthcare professionals."
"Our fantastic new Zoom activities are therefore not only aimed at educating and entertaining children and teenagers in a creative way but are also helping parents in terms of respite or their child's mental health and wellbeing.
"Our many fun activities include how to make things at home, art demonstrations, online music / singing and story time sessions."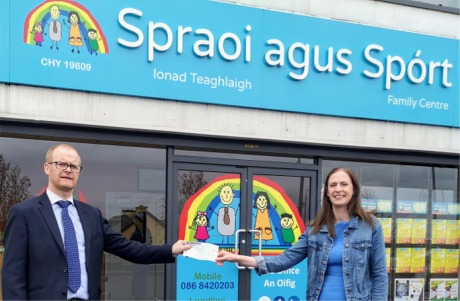 Helen Nolan, Spraoi agus Spórt CEO, receives a €500 cheque donation from Pauric Bonner, Manager AIB Carndonagh.
An example of messages sent by parents expressing their delight at the new service includes a mother who said: "Our daughter has a moderate general learning disability (GLD) and is very sociable. She has been missing school and the social contact of her friends terribly and has been very difficult to manage in the home (during the lockdown). When Spraoi suggested the Zoom meetings I wasn't sure if she would like them because she is non-verbal. But I couldn't have been more wrong! The tutor talks to each child by name and gives them a chance to respond in the group. She loves the art demos, story time and music and above all, the familiar friendly faces that she knows from Spraoi. She looks forward to each Zoom meeting and it has added purpose and fun to her day!"
Spraoi agus Spórt CEO Helen Nolan has also said that donations like those from AIB are vital for their organisation in terms of providing services like the Zoom meetings as their revenues have been hit hard by Covid-19.
"I am acutely aware that all sectors of society and the economy are facing unprecedented challenges at this very difficult time and that the charity, community and voluntary sector is no exception" said Helen.
For further information on their Zoom activities or to donate to Spraoi agus Spórt please contact their helpline on 074 937 3303 or email support@spraoiagussport.ie .