Shop local loyalty card launched in Carndonagh

30
.11.20
CARNDONAGH Trader's Association and Spraoi agus Spórt are delighted to announce the launch of the Shop Local Carndonagh Loyalty Card. Using the resources of the FabLab Inishowen and the design creativity of Donegal County Council's Creative Community project group, a bespoke Christmas decoration has been designed and produced that will be given as a thank you to shoppers in Carndonagh who chose to shop local this December.
With the loyalty card scheme, shoppers who collect eight stamps, one for each local shopping transaction, will be given a Christmas keepsake made in the FabLab in Carndonagh. The bespoke Christmas mementos are in fine wood and have a Celtic star engraved in the centre with the message shop local Carndonagh. Shoppers can pick up a card at participating outlets and once the card is filled can claim the Christmas keepsake.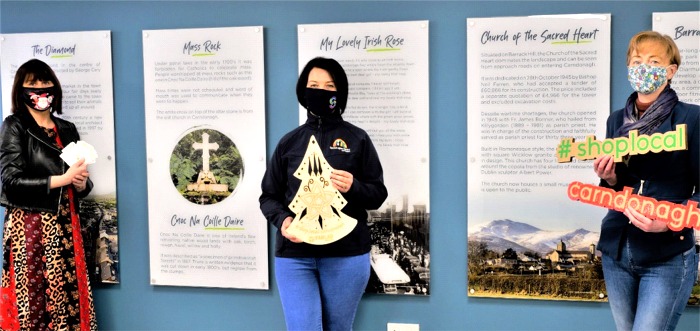 Launching the Shop Local Carndonagh Loyalty Card at the Visit Carndonagh Office is Deirdre Bradley (L) with Elaine McColgan (R) from the Carndonagh Traders' Association and Louise Grant (C) from Spraoi agus Spórt and the FabLab Inishowen.
The thank you gift is a bespoke design by local textile artist Orna Doherty. In the month of November, FabLab Inishowen, with the support of the Donegal County Council, ran workshops for people in business and creative industries to access the resources of the digital fabrication laboratory in Carndonagh which is run by Spraoi agus Spórt. The FabLab Inishowen offers laser cutting machines, vinyl cutters, and 3D printers all of which were used in the Creative Communities workshops.
Deirdre Bradley from the Carndonagh Traders' Association said: "The loyalty scheme is an opportunity to thank people who choose to shop local in Carndonagh. We want to recognise the impact that choosing to spend your money in the town can have. The local multiplier effect means that every €100 spent in the local economy is worth €500 in terms of employment, revenue for other local businesses, and support for local community groups. It is a wonderful collaborative project, and we are proud to have the gift made here in Carndonagh"
Eimear McLaughlin, manager of Spraoi agus Spórt, said "We are delighted to have the opportunity to produce something locally in the FabLab Inishowen that local people can take home. The design and production of the keepsake, loyalty cards, stamps, signage were all done in Carndonagh. It reflects the enterprising way this community works together."
Details of the shop local scheme are on the Facebook pages of Spraoi agus Spórt and the Carndonagh Traders Association.